For I know the thoughts that I think toward you, saith the LORD, thoughts of peace, and not of evil, to give you an expected end. ~ Jeremiah 29:11 KJV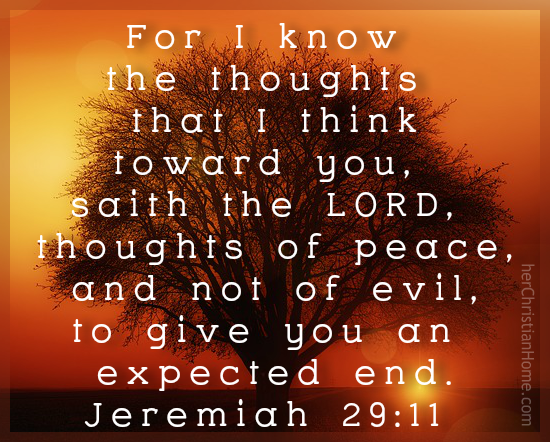 When I was 19, before heading off to Bible college, a sweet lady made me an embroidery-stitched picture with the Bible verse, Jeremiah 29:11.
I'm embarrassed to admit it, but at the time I had no clue what the Bible verse really meant.
As I began to grow more spiritually in Bible college by continually reading and hearing God's Word, my spiritual understanding deepened.
I remember coming home for a visit from college and glancing at the Bible verse hanging on my wall one more time.  AND instantly I understood what the verse meant for me!
There's a lot of rough spots along our journey in life, but it's a comfort to know:
1. The Lord is thinking about us!  (Present tense and continual: "thoughts that I think toward you".)  Just as we love our dear children and think of them often, so does God!  Wow! God is thinking about us!
2. God has thoughts of peace toward us. He wants things to go well for us.  He loves us so much. He doesn't want to harm us.
3. The Lord's intentions are not evil.  God has good intentions for us. Even though trials may leave us feeling doubtful that the Lord really cares about us at times, His intentions are of "peace"…they're for our well-being!  They are NOT for evil!
4.  The Lord has an expected end planned for us. We can only see so far down the road (a day at a time)…but God is well able to see the end of our journey.  He knows the final outcome.  Again, the good and the rough patches are for our benefit, if we'll but trust Him to lead us along.
Trust God and you will enjoy the journey.
May God bless you and your family,
~ Rhonda White
*Updated 5/1/2019  / Originally posted June 9, 2013