Peanut Butter Banana Smoothies – Quick Recipe
Written on June 16, 2010
in Beverages, Breakfast, Children's Activity Ideas, Cooking, Family Corner, Kids, Quick Fixes, Recipes, Saving Money, Snacks & Dips
2 Comments
Peanut Butter Banana Smoothies – Quick Recipe

"Because Mom Makes them Better" was my youngest son's quote this morning immediately after my middle son said that it was better than Braums.   I don't know if I could exactly compete with Braums, but the price sure is better. (BIG GRIN)
You may be surprised that I served this for breakfast.  For a quick breakfast, I used to feed them some bananas with peanut butter smoothed over the top with a small glass of milk. Suddenly, I thought, why not make breakfast super special by serving it all mixed in a smoothie! (Great idea, mom!)
Here's the pic, to entice you a bit…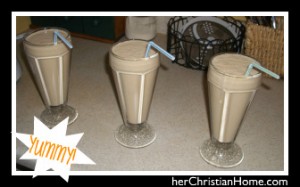 Note: I found these three glasses at the thrift store for 49 cents each.  I swiped them up to make our smoothies a little more special.   We were praising God for a special find…because the fact is there were just three of them….which made me think immediately of my 3 sons.
Here's the original recipe:
Peanut Butter Banana Smoothie

Use blender to mix till smooth & creamy.
To make enough for my boys:
I toss in 3 bananas, 3 tsp.maple syrup, 2 or 3 cups milk, 3 large hunks of P.B. with my spatula, and 8 -10 ice cubes.
Tip: About 15 – 30 minutes before making our smoothies, I toss the bananas in the freezer to get them really cold.  You can also use frozen bananas that are getting a little soft and store them up just for banana smoothies.  Just slice into frozen chunks and toss into the blender.
Yes, the peanut butter can be a little fattening, but oh, it adds such a nice thick, rich texture like a Braums treat. Big $avings!