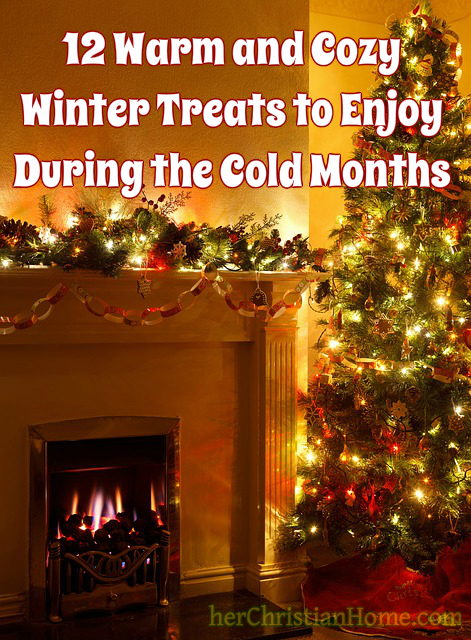 Every winter, the very first snow calls for a
celebration
at the "White" house here.  We bring out the mugs and the hot chocolate mix and make ourselves a cup of hot chocolate. Watching an episode from
"Little House in the Prairie"
completes the
"snuggy"
atmosphere.  The only thing that would top off the effect is if we had a fireplace
…but oh, well…we'll just have to use our own imagination for that part.
Anyway, if you're snowed in or just attempting to enjoy the colder weather during the winter months, here's some wonderful treats you can enjoy with the ones that you love…
1. Peppermint punch:
Peppermint ice cream, ginger ale, and eggnog mixed together with a peppermint stick. Add a little whip cream to the top for an extra treat.  I found this easy 5 minute recipe for
"Holiday Peppermint Punch"
here: 
http://www.tablespoon.com/recipes/holiday-peppermint-punch/4f21ac5a-3b7e-4aa7-a0ca-f3ecfa4e9dcb/
2. Hot chocolate a la The Polar Express:
Heavy cream, sweetened condensed milk, bittersweet chocolate chips, milk, and vanilla. Stir everything together over low heat until chocolate is melted and fully incorporated with the other ingredients.  To take the guesswork out of this delicious hot beverage, follow this recipe here for
"Polar Express Hot Chocolate"
:
http://www.the-girl-who-ate-everything.com/2012/12/p
olar-express-hot-chocolate.html
3. Apple pie:
You don't even need a recipe for this. Really any apple pie will do….I grab one every now and then from Dillons (or Walmart's) discount shelf.  Heat it in the microwave and you have one warm, delicious winter treat.  However, for those who like something more homemade
(cause it smells soooo good baking in that oven)
here's a recipe for
"Easy Homemade Apple Pie"
: 
http://www.northernmichigancoupongirl.com/easy-homemade-apple-pie/
4. Cinnamon buns:
Warm, ooey gooey cinnamon buns. Okay, this one we don't do so often around our house, but nevertheless, it's a treat I enjoy every once in a long while…and great for cinnamon lovers! 
There's a few select choice recipes from this blog here: 
http://picky-palate.com/?s=cinnamon+rolls
5. Baked oatmeal bars:
Get your morning oatmeal in a handy little bar. Add your favorite sweet treats (dried figs, raisins, chocolate chips) to make it a sweet treat. 
Here's a recipe that's said to be "amazing" here:
http://www.cafemom.com/group/116830/forums/read/1918979/You_HAVE_to_try_these_addictive_oatmeal_bars
6. Apple crisp:
Apples make perfect sweet treats. They taste great warm and a nice crunchy apple crisp is the perfect winter soul-soothing treat…and a bit easier to throw together than a pie. 
Here's a simple, yet absolutely delicious-looking recipe for Apple crisp here:
http://www.walkingonsunshinerecipes.com/2013/09/apple-crisp.html
7. Brownies:
It doesn't matter how you make them as long as you eat them right out of the pan…because a warm fresh brownie is the ultimate warm and cozy winter treat…especially for chocolate lovers!  When I'm in a hurry I'll buy a cheap brownie mix, add a small handful of chocolate chips, toss in some chopped walnuts and bake for a delicious homemade taste.  
To impress the socks off your hubby, try the recipe on this blog here: 
http://alexandraroseboutique.blogspot.com/2011/08/homemade-brownies.html
8. Banana bread:
This isn't too difficult to make. Some nice ripe bananas mashed up with flour, some sugar, butter, egg, vanilla, baking soda, and salt. It tastes great warm with some butter (or peanut butter) and a cup of tea.  Here's a simple recipe adapted from
National Society Daughters of the American Revolution, Jen Miner: 
http://whatchamakinnow.blogspot.com/2011/06/banana-bread.html?m=1
9. Hot apple cider:
Sure to keep you warm on those cold winter nights. Or just top your hot apple cider with a hint of caramel.  
Here's a recipe and a delightful way to serve up your hot apple cider) here:
http://storyofmylifetheblog.blogspot.com/2012/11/best-ever-hot-apple-cider.html
10. Eggnog:
You can't go wrong in the winter with a little eggnog.  Check out this source,
"The Best Easy Eggnog Recipe"
here: 
http://hungryinhouston.com/2010/12/23/the-best-easy-egg-nog-recipe/
11. Mug cakes:
Use your coffee mug for more than just coffee. Take your favorite cake and bake it in your coffee mug for a quick treat. And since it's a single serving you don't have to feel like you need to eat the whole cake. You can satisfy your sweet tooth by whipping up this one simple single-serve cake.  For an easy recipe check out,
"3-Minute Chocolate Mug Cake from the Microwave"
:  htt
p://pedersenfood.blogspot.com/2011/10/3-minute-chocolate-mug-cake-from.html
12. Hot vanilla:
Instead of hot chocolate, try hot vanilla. Some milk, sugar, and vanilla extract make a tasty hot vanilla. Heat the milk and sugar in the microwave and then add the vanilla. Top it with a dollop of whipping cream, chocolate syrup, and a dash of cinnamon. Are you feeling warm yet?  Check out this recipe,
"Hot Vanilla Nightcap":
here:
http://www.susieqtpiescafe.com/2013/09/warm-drinks-hot-vanilla-nightcap.html
YOUR TURN!  Please do share your favorite wintertime treats! 

(*You can also link to your own on your blog post if you have a recipe there.)
I want to wish
YOU
a
Merry Christmas
and a
Happy New Year
!  Enjoy the time with your family.
]]>

<![CDATA[