cheap
,
easy to make
and most recipes are actually really
healthy
.  For this reason, I do soups year-long, but especially during the cold months to warm us up.
AND… if you're ready to lose some of those added holiday pounds from Thanksgiving, Christmas and New Years… soups can help you rid those extra pounds fairly quick.
So today I'm sharing some healthy soup recipes with you…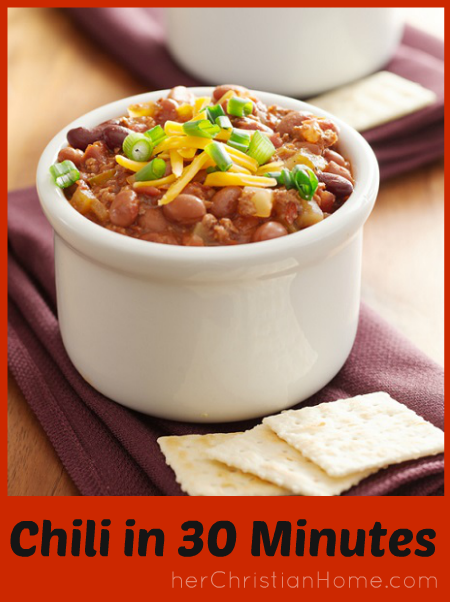 and I love using my red dutch oven to cook and simmer all my soups!  Do you use a dutch oven?
Chili in 30 Minutes
Ingredients:
2 Tablespoon olive oil
6 medium onions, chopped
2 medium carrots, chopped
2 tablespoon finely chopped jalapeno pepper
4 cloves garlic, finely chopped
2-4 tablespoons chili powder
2 teaspoons ground cumin
2-28-ounce can plus 2-14 ounce can whole tomatoes, chopped, with juices
2 teaspoons brown sugar
½ teaspoon salt
4 15-ounce cans kidney beans, rinsed
2/3 cup bulgur  (or toss in some cooked ground beef if you're a meat lover)
1 cup non-fat pain yogurt for garnish (optional)
2/3 cup chopped scallions for garnish (optional)
½ cup chopped fresh cilantro for garnish (optional)
*At the "White" house here we love adding some "Fritos" on top.
Instructions:
Using a Dutch oven, turn your a burner on medium heat.  (Your Dutch oven should have the oil in it.)  Add the chopped vegetables, along with the chili powder and cumin. Cook the vegetables and spices until the onions and carrots are soft. This will take about 5 to 7 minutes.
Add the contents of the tomatoes, sugar and salt to the pan. Cook the ingredients for 5 minutes set at high. Reduce the heat to low and then stir in the beans and bulgur. Simmer the ingredients until the chili has thickened, which will be about 15 minutes.
Serve the chili with any of the garnish above, if desired.
(12 servings about 1 1/3 cup each)
Here's some great Soup Recipes that I found on other blogs to warm you up during the winter cold months…
Cheesy Potato Soup
http://creativekkids.com/freezer-fridays-cheesy-potato-soup/
Lentil Soup with Beef
http://fourseasongourmet.com/lentil-soup-with-beef/
Crockpot Red Beans and Rice
http://littlemagnoliakitchen.blogspot.com/2012/08/crock-pot-red-beans-and-rice.html
—————————————————————–
In this harried, indulgent time of year what I actually crave most is food that's simple and nourishing, something that doesn't take a lot of time or fuss to eat but provides warmth and balance. In other words, a big pot of soup.
—————————————————————–
If you have some left over bread, it's winter and your immune system needs a bit of a boost, My winter tomato soup recipe is just what you need . Its really easy to make, takes very little time, one of the cheapest meals I know
——————————————————————-
Hearty and healthy chicken and wild rice soup that is made in the slow cooker!
———————————————————————-
A fun twist is making a taco soup that's packed with many of the same ingredients as chili but with taco seasoning. 30 Minute Taco Soup Recipe. If you happen to be snowed in when you're craving taco soup, you really don't …
———————————————————————
Detox Soup takes many of the healthiest ingredients possible and puts them together in one pot.The soup is easy to digest so your body can absorb and utilize all of the nutrients more easily. The best part about this recipe is …
———————————————————————–
Healthy turkey soup recipe with kale using your leftover Thanksgiving turkey. This quick and easy kale soup recipe has turkey breast or turkey leg meat and vegetables.
————————————————————————–
This new phase one recipe for Italian Sausage Soup with Green Pepper, Chickpeas, and Pesto is something I came up with a few weeks ago when I found turkey Italian sausage on sale at the store and I wanted a hearty …
—————————————————————————-
This 5-ingredient easy broccoli cheese soup recipe is made with 5 healthy ingredients (including REAL cheddar cheese), and is ready in just 30 minutes!
—————————————————————————–
Creamy, vegan cauliflower soup made with coconut milk and spiced with curry. A healthy, comforting soup for chilly days.
More soup recipes from the web…
As I mentioned on Facebook the other day, I LOVE making soups!  They're fairly