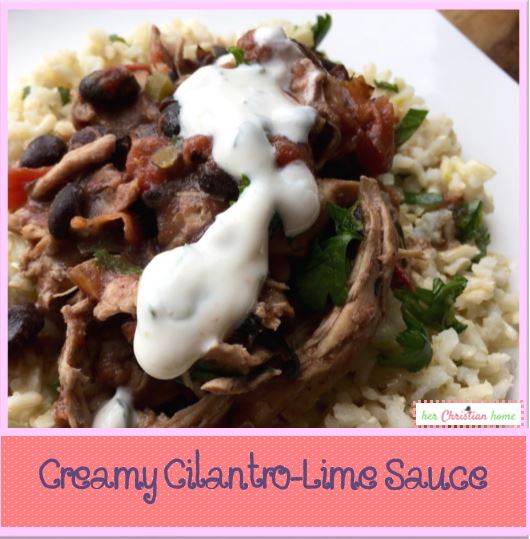 This creamy cilantro lime sauce will go perfect with the recipe that I will be sharing soon: 
Slow Cooker Mexican Shredded Chicken
(Look for it next week!)
And, to make a complete meal, check out last week's super-easy
cilantro-lime rice recipe
and then add a simple side vegetable.
Tip: For best results, prepare the cilantro-lime sauce the night before you need it to give the flavors a chance to blend. Planning ahead will also save time on those busy nights you want to get dinner on the table as quickly as possible.
Featured Product:
Organic Culinary Herb Seeds (12 pack) – Thyme, Chives, Cilantro, Summer Savory, Sage, Dill Bouquet, Garlic Chives, Italian Parsley, Mustard Leaves, Oregano, Sweet Marjoram, Sweet Basil  (My referral link)
*To download the Pretty PDF copy of the Creamy Cilantro Lime Sauce Recipe
CLICK HERE
Creamy Cilantro Lime Sauce
Recipe Notes
Tip: You can also prepare the fajita seasoning in larger batches and store in an airtight container for later use.
Ingredients:
Homemade Fajita Seasoning:
3 T. chili powder
1½ T. smoked paprika
2 t. onion powder
2 t. garlic powder
2 t. ground cumin
½ t. cayenne pepper
1 t. dried oregano
2 t. sea salt
Cilantro-Lime Sauce:
1 c. plain, full-fat Greek yogurt
1-2 T. homemade fajita seasoning
1 clove garlic, peeled and finely minced
2 T. fresh cilantro, finely chopped
2 T. fresh lime juice
Salt and black pepper, to taste
Directions:
1. Prepare the fajita seasoning by combining all ingredients in a small bowl and stirring until thoroughly blended. Store any excess in an airtight container for later use.
2. Prepare the cilantro-lime sauce by thoroughly combining all ingredients in a medium glass or other non-reactive bowl. Cover and place in the refrigerator until ready to use.
Please help share my content: