Our Story of How We Fell in Love with the Beautiful Fish
My hubby and I LOVE salmon.  We first got hooked when we were newlyweds, who loved to gorge ourselves at Golden Corral. Wow, those were the days of misery, because I always spouted off to my hubby, "Eat up! You've got to get your money's worth!"
In pain, we'd slowly stroll away after our meal, gently climb into the car, our bellies aching from our over indulgence of an abundant meal. I soon learned that buffets are NOT such a great bargain for the belly after all. 😉
Alas we met… 
One fine day, while on our "Belly-Busting Buffet" date, we discovered the lovely pink slices of salmon on the food bar…and fell in love at first bite.  As I hate when meat gets so dry in your mouth, I found a nifty way of adding some nice, creamy texture by plopping a few big spoonfuls of cottage cheese right on top!  Ahh! Delicioso!
Because of the expense of salmon, we don't have it very often, but I do happen to have some tucked away in our freezer right now, so I'm looking forward to enjoying that treat someday soon.  I usually place mine in the steamer, which is very simple to prepare.  I just add a little sea salt, a few sprinkles of lemon pepper and set my steamer to around 30 minutes because it's usually frozen when I start.  If your fish is thawed, then your fish will definitely cook much faster in the steamer, I suspect.
Grilled is another tasty option too!  Just be careful not to let it get overcooked!
No steamer?  Check out this post: How to Steam Salmon
Healthy Eating Facts: Why eat Salmon?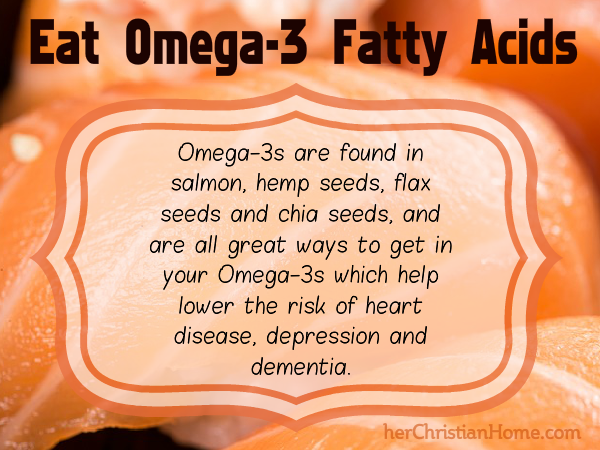 A Simple Salmon Salad Recipe



Salmon doesn't need anything fancy to be enjoyed on a salad.  **Keeping it simple allows you to enjoy the delicious flavor of the fish.
Salmon (Steamed or Grilled — Ready to serve cooked — hot or chilled — your preference)
– Your favorite lettuce
– 1 egg per person (you can quickly slice these for a nice presentation with an egg slicer.)
– Cherry tomatoes sliced in half (you can choose these instead of eggs or have both!)
– Salad dressing  (a creamy-textured version works best.)
Directions:
Wash and dry the lettuce.  Tear lettuce into nice, bite-sized pieces.
Place a nice portion of lettuce in the bowl, lay your Salmon on top. Drizzle on your creamy dressing. Garnish with hard boiled eggs cut into slices (and /or cherry tomatoes).  Of course, you can get as creative as you want by adding your salad favorites.
The point is, just enjoy this simple, healthy meal and get your extra Omega-3s!  😉
So Simple – Creamy Herb Salad Dressing Recipe



1/4 C. whole buttermilk
1/4 C. mayo
1 tsp. finely grated lemon zest
1 TB. lemon juice
1 garlic clove, minced
kosher salt and freshly ground pepper to taste
Directions: Whisk together in a bowl.
*Attribution: Country Living Magazine, April 2015 issue, pg. 95
Related Recipe on HCH:
Kitchen Tips Video: How to keep lettuce fresh for 3 weeks