different ways to enjoy watermelon
this summer.  Here's some suggestions you might try for variety.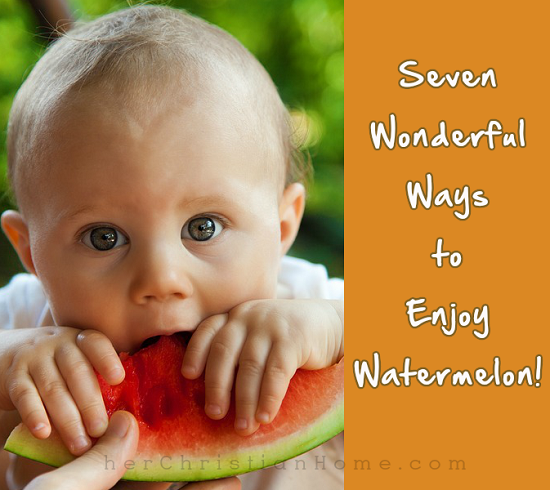 1. Bacon and watermelon
– What? This can't be good, can it? It can be if you make an appetizer that "
looks like sushi
." Bake the bacon at 375 degrees for about 15 minutes. You do not want the bacon to be crispy. Spread cream cheese on the bacon and then wrap it around 11/2 inch cubes of watermelon and place a toothpick into the bites to hold the bacon in place.
2. Watermelon pizza
– Using a premade pizza crust, spread strawberry flavored cream cheese onto the crust in an even layer. Place small squares of watermelon on top of the cream cheese. Sprinkle it with crushed cinnamon graham crackers and enjoy.
3. Juice a watermelon
– Pour the juice into ice cube trays. Allow the juice to freeze and use these ice cubes in place of regular in your favorite tea, lemonade or juice drinks.
4. Watermelon fruit leather 
–  Give the children something sweet to enjoy this summer that doesn't have to contain extra sugar. Remove seeds from the darkest part of a ripe watermelon. Puree the fruit in a blender until smooth. Drain some of the juice and allow the children to enjoy. Be sure to leave some of the juice for the leather. Spread the remaining pulp onto the plastic tray of a fruit dryer or dehydrator. Dry according to directions. When it is has dried, you may cut it into shapes or into strips. Roll each one in plastic wrap and then aluminum foil. This will keep for at least two months . . . if it lasts that long.
5. Add slices of watermelon to your sandwich
–  Instead of tomato, try adding a slice of watermelon. It may seem weird, but a watermelon is very similar to tomato so it shouldn't seem too odd. Enjoy watermelon slices with chicken, your favorite cheese and lettuce.
6. Make a fruit and vegetable salsa
– Enjoy a change with a new side dish at a cookout. Add fresh corn, canned black beans, onion, jalapeno peppers, garlic, chopped watermelon, lime juice, cilantro, cumin, chili powder and olive oil. This is a recipe sure to please.
7. Create a basket with a watermelon
– Mark a 2 inch band around the center of a watermelon and then cut from each end, going lengthwise, to the outer edge of the band. Remove these two pieces and leave the band intact. Scoop out the watermelon with a melon ball scoop. Mix together diced cantaloupe, bananas, strawberries, peaches, grapes and of course, watermelon balls, into a large bowl to mix. Once mixed, place the fruit salad into your watermelon basket for a great serving dish. As you can see, these are a few ways you can enjoy watermelon rather than simply slicing it and eating it. Of course, with the great taste of watermelon, just about any way you want to enjoy it is fine.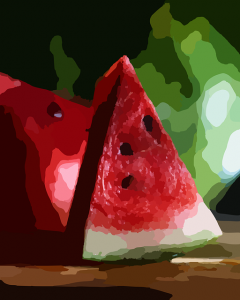 Your Turn!  Add a LINK or SHARE your Watermelon Ideas!
_____________________________________
Related articles on the web…
]]>

<![CDATA[I've loved eating watermelon since my very young childhood... I remember dashing a little salt on top when I was little, but I guess I sort of weaned away from that over the years and started just enjoying the natural flavor.  When my hubby and I was working in the Spanish ministry several years ago, I discovered a brand new LIKE. The Mexicans added some squirts of lime on top and chili seasoning.  I loved the lime addition and still use that from time to time, especially when my watermelon seems to be lacking in flavor. Watermelon here in the USA has been a standard fare for summertime picnics and family gatherings. If you're tired of eating it in slices or cubes, you might be looking for some