"To every thing there is a season, and a time to every purpose under the heaven:"

~ Ecclesiastes 3:1 kjv
It's fun to party, isn't it?
The only downside to parties is that they require some "creativity" for ideas,  "money" and "time" to plan and prepare for the party, and the "clean up" (Wish I could outsource the clean up, hee hee! 😉
Well, I can help you with the first part today with some easy party ideas…and a few tips for planning!
Eight Party Ideas for Women Get Togethers
1. Rent a Cabin
For a rustic, nature-intensive party, you can rent a cabin for the day and invite everyone over. Party ideas that are good for a cabin setting might be a bonfire or cookout. You could also go for a hike and have a picnic. If the cabin has an outdoor hot tub, all the better for relaxing and chatting.
2. Slumber Party
You don't have to be a pre-teen to enjoy a slumber party. They can be great fun for women, too, especially if you have a friend who really needs some extra support. It's a fun way for everyone to hang out and bond together.
3. Makeover Party
Host a party with a makeup specialist who can give everyone a makeover. This is everyone's chance to try a new look! The specialist can give a short talk, and then make sure you have lots of good food and entertainment for everyone while each guest gets her makeover.
4. Dinner and a Facial
Taking the "beauty" theme a bit further, consider giving guests a facial. While evening would be a fun time to combine the facial with a sit-down meal, mid-mornings would also be a great time for this sort of party. You could serve a buffet brunch, for example, and have a beauty expert on hand to do everyone's facial. Or, you could have do-it-yourself ingredients or kits and guests could help each other.
5. Natural Beauty
You could also host a natural-beauty themed party and let guests choose from an assortment of natural ingredients to make their own cleansers, moisturizers, hair treatments, and face masks.
6. Fitness Focus
There's a lot of focus on fitness lately, and for good reason. Exercise and keeping fit are vital for health. Why not host a women's party where you have a personal trainer come and speak? She could offer gym membership coupons or special deals on her services as a trainer. Along with healthful foods, this kind of party can inspire as well as entertain.
7. Tea Party
The concept of the tea party has changed quite a bit since its Victorian inspiration. Of course, you may want to host just that kind of party – an old-fashioned, Victorian-style tea party with period foods and antique teacups. For a more modern flair, serve trendy teas in various flavors, iced and hot. You could have the party indoors or outside on a patio or porch.
8. Thrift Store Treasure Hunt
This is one that my church usually does before each school year approaches.  Drive to a large location with lots of thrift stores. (Have addresses jotted down ahead of time.)  Borrow or rent a large van, have ladies gather in, and then hit as many thrift stores as you can.  Stop at lunch time at a restaurant to chat about your "thrifty treasure finds" and enjoy the food!  No cleanup required!  Yay! 😉
Top Tips for Hosting the Perfect Bridal Shower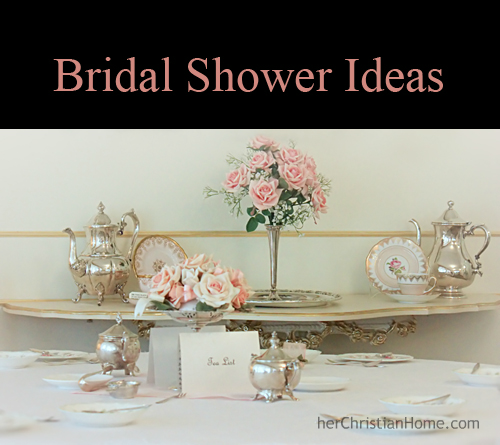 1. Location
One of the best locations for a bridal shower is one of the bridesmaids' homes. But this is not always feasible.
Here are some other ideas:
* Weather permitting, a local park can be a great idea. If it's mid-summer, you can decorate with lots of citronella candles and have insect repellent handy. In the spring, an outdoor tent or picnic shelter would work. In the fall, you can build a fire and have a cookout at the shower.
* Your church can be a great place for a shower. Most churches have a social "hall" or gathering place where such events can be easily held.
* Local recreation centers are also good places for bridal showers, and they often have facilities that can accommodate lots of people.
* Local restaurants make lovely shower locations.  Some restaurants have large rooms that can be rented for social gatherings.
2. Food
One of the key elements to the perfect bridal shower is the food.
Here are some ideas for today's health-conscious brides:
* Set up or make your own yogurt buffet. This is a healthy twist on the build-your-own-sundae idea. Have several kinds of yogurt available, and then a line of fresh fruits and other fun toppings.
* Turn regular food into finger food. If you take this idea as a springboard, you can come up with all kinds of finger foods.
Some ideas:
=> Greek salad stuffed into pita pockets, then halved
=> Mini taco salads – taco salad ingredients on corn chips
=> Little BLTs – on hearty crackers, spread mayonnaise and top with shredded lettuce, a small slice of tomato, and a small piece of bacon.
=> Mini sandwiches are always a hit – roast beef, egg salad, tuna and chicken salad, turkey, etc.
=> Fruit kabobs are also very pretty and popular. You can offer them with chocolate fondue if you like.
3. Entertainment
Make sure you keep the bride's taste in mind here, too. Don't have silly games if she's the type who is made uncomfortable with them. On the other hand, if she's the type who would be disappointed if there weren't something silly and fun, then make sure to have some goofy games! Door prizes are essential to make everyone feel welcome.
4. Decorating
Here's some ideas for decorations to help get the ball rolling:
* Force bulbs like tulips, hyacinth, or paperwhite in small, individual vases or pots. Then have one at each place at the table for a sit-down meal, or decorate the buffet and tables with them. Guests can take them home as favors.
* Try dipping colorful string or thread in watered-down white glue. Drape the threads over blown-up balloons. Allow to dry overnight and then pop the balloons for a pretty bubble-like decoration.
* Make paper flowers using tissue or crepe paper, and then decorate the whole room with them. You can also group them or paste them on cards or natural branches.
Baby Shower Ideas: Themes and Tips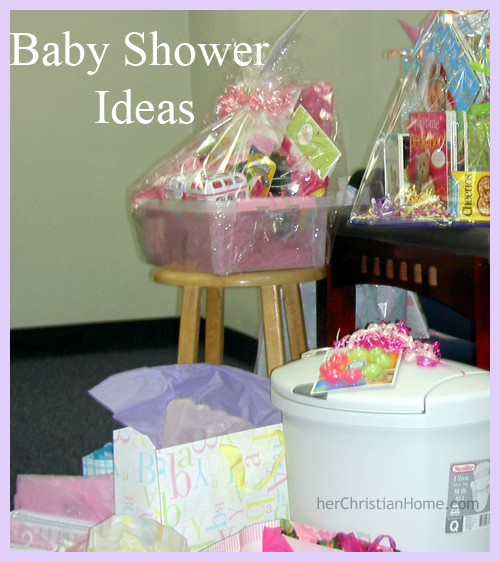 Baby showers create memories and provide much-needed baby items. It's a fun time where other moms can share their wisdom and experience as well. If you're throwing a baby shower, you want it to be a memorable occasion.
Here's some baby shower ideas and tips for themes, decorations:
Themes
You don't have to choose a theme, but it can make choosing the menu, decorations, and games a bit easier.
Some theme ideas if you want to go that route:
1. Eco-friendly baby shower
Going green (instead of pink or blue!) is trendy these days. This is the perfect theme for a mom-to-be who doesn't know (or hasn't shared) the gender of her baby. You can ask guests to bring green or yellow items, and you can decorate accordingly. No paper invitations for this one!
2. Spring showers
Since it's a baby shower, why not run with that theme? Decorate with umbrellas, raindrop shapes, and clouds. This is especially good for a springtime shower.
3. Bugs
Bees and ladybugs are especially cute themes for a baby shower. Guests can give bedroom items like sheets and pillows in this theme, too. Flowers can be used in decorating, along with bumble bee and ladybug cut-outs.
4. Teapots and teacups
This is another great theme with lots of food and decorating ideas. You can also give tea-related items as favors, which are easy to put together and fun to receive.
Tips for a great baby shower…
1. Spoil the mom
As many moms know, once the baby gets here, Mom isn't going to have much time for self-care. Take the opportunity at the shower to give her a massage. Continue with the beauty and spa theme by setting up an area where Mom and guests can get their nails done, and by having individual areas set up for makeovers and/or facials.
2. Keep games fun and tasteful
Don't get stuck in the usual baby shower games rut. Try something different, like having guests bring in a baby picture and letting everyone guess whose picture is whose. Have prizes for the winners and make sure that you don't push Mom into doing anything she's uncomfortable with.
*Side Note:  I recently helped with a baby shower.  The theme was on "monkeys"… So I made a bunch of homemade playdough, rolled lots of small balls of playdough, put them in individual snack baggies.  I passed out these baggies to the ladies to see who could make the "best monkey" out of the playdough.  It created fun discussions and lots of laughing looking at our creations.
3. Give guests time
Etiquette says that invitations should go out at least three weeks before the shower. This gives people time to get a gift and to arrange their schedules accordingly.  To boost attendance, let them know you'll hold a special prize drawing for all attendees. You can think outside the box…just because others don't do something at their baby showers doesn't mean you can't!  Just plan for fun and let your creativity flow!
_________________________________________
Weekly Featured Products:
Turn this day into the most special for the new mom-to-be with the helpful information from a couple of moms who love to plan parties.
______________________
With The Ultimate Bridal Shower Book you can plan a party like an old pro even if it's your first time.
The Ultimate Bridal Shower Book
_____________________________________________________
*Disclaimer: Affiliate links are used on HCH.  Thank you for your support!