"And whatsoever ye do, do it heartily, as to the Lord, and not unto men;"

~ Colossians 3:23
Have you been spring cleaning?  I made a start two weeks ago, but then had a revival at our church and then cold weather set back in, so I sort of dropped the momentum that I had going.  Now, I'm ready to plunge ahead with my spring cleaning plans now.
Let me know how your spring cleaning is going, and please share any tips you have in the comments section below.
You don't have to do anything really drastic to freshen up your home.  Get creative and enjoy giving your home a new "facelift"!
Five Simple and Easy ways to Freshen up your Home
1. De-Clutter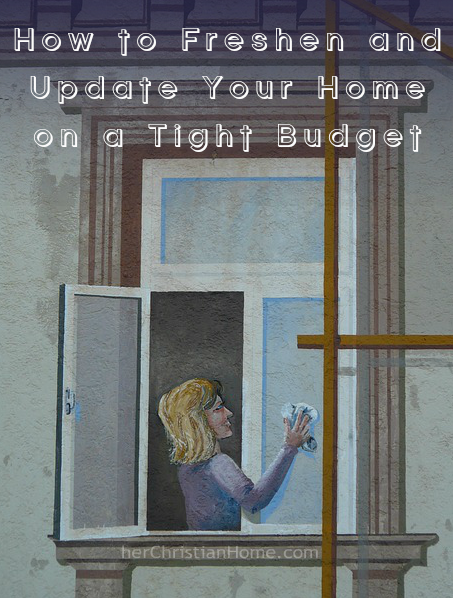 This is probably the number one thing you can do to freshen up your home. After a while, you may stop "seeing" the clutter. Put a fresh pair of eyes on, so to speak, and go through the rooms and remove anything that doesn't fit the theme or function of the room.
Kids' toys, paper piles, forgotten coffee mugs, and so forth can all be gathered up and put back in their rightful place. If they do not have a rightful place, either get rid of them or make a rightful place.
One way to create neat, uncluttered storage is to use decorative boxes. Put the items in there – items like remote controls, electronics, cell phones, and so forth – and slip the decorative box into a bookshelf or place it on the mantel. It looks nice, and no one needs to know it holds clutter!
2. Bring in Some Plants
In your newly de-cluttered room, place some green and vibrant plants. Trailing green vines like ivy or golden pothos are a great place to start, and they add a lovely green and natural air to the room.
In addition, these plants really do help clean the air, so they freshen your home in a very literal way…
Here's some air-freshening varieties you can try:
* Aloe vera
* Spider plant
* Gerber daisies
* Golden pothos
* Snake plant
* Schefflera
* Ficus (fig), especially weeping fig
* English ivy
* Dracaenas
* Bamboo palm
(NOTE: Check out the tips further down on "Fresh Scents for Your Home: Fragrant Plants")
3. Rearrange Everything
Try something new – put the table under the window; move the couch so it's caddy-corner; put a tall lamp behind a corner chair.
Rearranging furniture will give your home a fresh new look, as will rearranging knick-knacks and decorative objects. Of course, all this rearranging won't have a freshening effect if you don't clean and wash the items and furniture. So make sure you clean and dust as you go.
To wash furniture, you can make your own cleaner:
1 tablespoon liquid dish soap and 2 cups of hot water. Whip with an egg-white attachment on your electric mixer, and you will get a dense foam you can use to sponge off your furniture. Then go over it again with a sponge and clear, warm water.
4. Wash Walls
Okay, this one may not be quite so high on the easy-o-meter, but it's still simple, and much cheaper and quicker than painting.
With a bucket of warm, soapy water and a sponge, you can go over your walls to clean them. Add a few drops of fresh-scented essential oil, like lemon, orange, or lavender to the soapy water. You will be amazed at how dirty the water gets, especially if you have a fireplace. Once you've done that, go back over walls with clean, warm water. Your whole room will look brighter and smell cleaner!
5. Change Rugs
Area rugs and throw rugs can be changed out or put away for the spring and summer. You can also simply wash them and put them back, freshening up the room considerably.
You also might want to consider getting new area or throw rugs, as long as you can find one within your budget. Even a new, colorful welcome mat in the entryway, a relatively inexpensive purchase, can freshen up the look of a room.
Top Ten Low-Cost Upgrades for Your Home
Do you want to update your home, but you're on a tight budget? It's easy to get caught up in the idea that home improvement means massive outlays of cash. You don't have to spend a great deal of money to make some big improvements to your home.
Here's ten low-cost upgrades for your home…
1. Front and Center – Your Front Door
Start with the front of your home, sources say. This is the place you will look at every time you walk in the house, and so will everyone else who visits. The front door is a good place to start. Here are some ways to spruce it up.
* Paint your front door. Usually a coat of primer and one coat of paint will do the trick. For a natural wood door, lightly sand the wood surface and apply a fresh coat of stain.
* Buy a new handle or doorknob.
* Hang an attractive, fresh wreath on the door.
2. Front Porch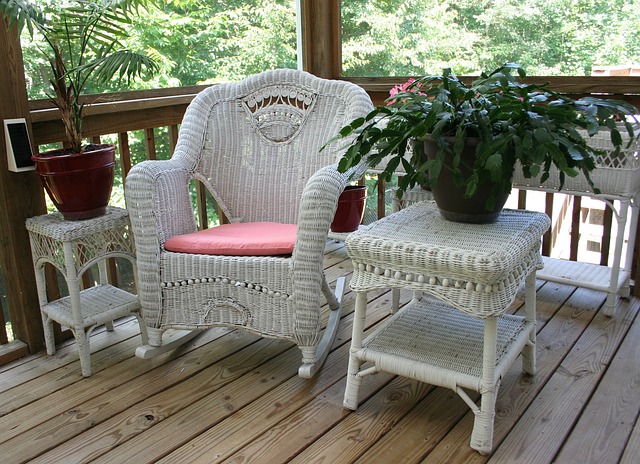 Still at the front of the house, make some improvements to your front porch. Matching planters on either side of the front door can look great. Make sure the plants in them are healthy and attractive. You can also hang plants from your porch ceiling if you have one.
A welcome mat that's colorful and classy can also add a quick upgrade and a splash of color.
3. Kitchen Faucet
The kitchen is an important part of your home – it's where people look first if they are buying a home and it's where guests tend to congregate. For a small amount of money, you can replace your kitchen faucet – of course, that price goes up if you have to hire a professional. But if you can do it yourself, you can spend as little as $15 for a new kitchen faucet that sparkles.
4. Kitchen Cabinets
Paint your cabinets and refresh your entire kitchen for just the cost of the paint. Natural wood cabinets can be lightly sanded and re-stained.
5. Kitchen Appliances
Wash the front of your refrigerator, stove, and dishwasher to give immediate refreshment to your appliances.
6. Bathroom Floor
For a quick, affordable fix for a worn bathroom floor, look for a sheet of vinyl flooring that can be placed right over the existing floor. You can also put down a new bathroom throw rug that covers most of the floor. Bright colors look the freshest.
7. Toilet Upgrade
Instead of replacing your whole toilet, just replace the toilet lid and seat. Then clean the toilet and put a nice arrangement of flowers on the toilet tank.
8. Window Treatments
New panel curtains or quick window treatments can upgrade and refresh a whole room. You can do most rooms in your home – or at least the bedroom and living room – for very little money.
9. Throw Pillows
New throw pillows add color and newness to your living room, den, or bedroom. Choose bright, clean colors and patterns.
10. Replace Throw Rugs
For not too much money, you can replace your worn throw rugs and liven up your kitchen, living room, bedroom, and entryway.
Fresh Scents for Your Home: Fragrant Plants
If you like a good-smelling home but want natural scents, planting fragrant plants near your windows and doors is one lovely way to achieve it.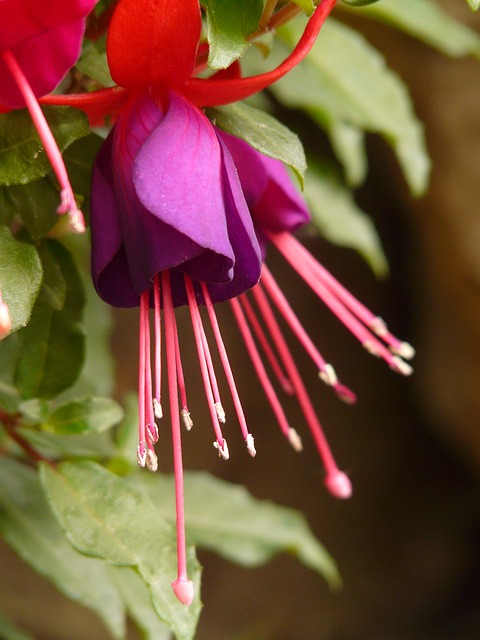 Here's some ideas and suggestions for creating fresh scents for your home through fragrant plants…
1. Along the Walkway
Along the walkway to your house (and on it if you have cracks in it), you can plant some low-growing, nicely-scented plants that will release their fragrance when stepped on. Thyme, pennyroyal, sweet woodruff, and Corsican mint are good options for this.
Place the plants along the edges of the walkway so that they will creep inwards, or plant seeds in the cracks of the walkway. When these fragrant herbs grow, visitors and family will carry in the scent on their shoes.
2. Window Boxes
Fill window boxes with sweet-smelling plants like sweet alyssum, scented geraniums, and marigolds.
For kitchen windows, culinary herbs like rosemary, lemon balm, basil, and mint are very fragrant (and you can reach out the open window and collect some as you cook!).
For a bedroom window, try lavender – it promotes sleep and you can open the window at night to let the fragrance in.
3. Under Windows
Night-blooming plants are wonderful under windows, where the scent can waft in when it's dark. Evening primrose, night-blooming jasmine, and wallflowers are some of the possibilities.
For daytime scent, lavender, basil, peonies, and phlox are good options. Bergamot or bee balm is a tall, bright-flowering member of the mint family that will add lots of amazing scent to your home when you open your windows – it smells like Earl Grey tea.
Wisteria is a very fragrant vine that you can grow under and around windows. The purple blooms will hang in front of the windows.
4. Doorways
At your doorway, it's nice to have plants with a welcoming fragrance. You can put a trellis over and around your doorway and cover it with honeysuckle, jasmine, sweet pea, climbing roses, or clematis. Or you can plant sage, mints, and oregano at your doorway. People will brush against these plants as they enter, bringing the scent with them.
You can also have a scented shrub on either side of your doorway, like bay, lilac, shrub roses, and butterfly bush.
Mirror, Mirror on the Wall – How to Use Mirrors to Reflect Light.
Mirrors have a definite place in decorating. Adding light and space, tastefully-placed mirrors are a significant and affordable enhancement to your home.
When light hits a mirror, it bounces off of it and back into the room. This helps multiply the light in the room, and using multiple mirrors can generate all kinds of interesting light effects. But just placing the mirrors randomly won't work
Here's some suggestions and tips on how to use mirrors to reflect light…
1. How Lights Act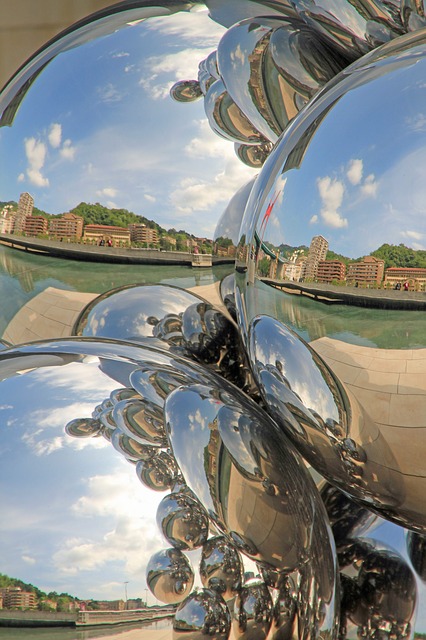 Some people think that light bounces straight off of a mirror, but actually it reflects off the surface of the mirror at the same angle at which it hits. This is important if you want to position multiple mirrors to reflect light off of each other.
2. Window Light
Place a mirror on the wall opposite a window, and the light that comes in will be reflected off the window, brightening the room. Even if the light from the window does not directly hit the window, the mirror will reflect the window itself.
3. Indoor Lighting
Place mirrors opposite an indoor light source, such as a chandelier, light fixture, or lamp.
4. Bigger Is Better
Sources say that you shouldn't worry about putting a large mirror in a small room. In fact, that's considered better if you want to bring light into a small room. In fact, it's no longer considered outdated to do mirrors wall-to-wall, covering a whole wall with them or installing a wall-sized mirror in one room.
Another large-mirror option is to place an oversized mirror on the floor that reaches to the ceiling. It will immediately add light and a brightening effect.
5. Fireplace Light
A reflective, mirrored screen by your fireplace can reflect the firelight and add a warm glow to a darkened room. A mirror over the mantel is another way to create a sense of space and light near your fireplace.
6. Candle Light
Mirror candle coasters reflect the flame's light and enhance the effect. Placing candles in front of a mirror reflects a romantic glow when the sun goes down.
7. Mirrored Ceilings
Another throwback – mirrored ceilings are a great way to open up a cramped entryway or bathroom. Ceiling lights and lamps are then reflected and the area appears much larger.
8. Dark Walls
If you have a space with a dark wall – such as an area with dark wood paneling or brick – hanging a mirror on that dark wall will reflect the lighter side of the room and add light and balance.
9. Closet Doors
A cramped bedroom can be brightened up considerably by adding mirrored closet doors. These do not have to be expensive, and they do give a sense of space and increase light.
 *Pin this Post on Pinterest Here: https://www.pinterest.com/pin/138204282287567874/
__________________________________________________________

Umbra Strip Wall Mount Mirrors –

Review 
Refreshing the look and feel of your home could be as simple as making a few additions. It doesn't have to cost you a lot of money either. With the Umbra Strip Wall Mount mirrors, you can add a conversation piece to any room.
If you've never done any redecorating, let's talk about mirrors. Mirrors can be used to add depth to a room. This is especially helpful for small spaces. Hang them on the wall opposite a window for a greater effect. Another hint is to spread them across one wall for a wider effect throughout a room. Choose several smaller mirrors or one large one that covers the majority of the wall.
With Umbra, you receive a set of 7 mirrored panels. There are three measuring 24x2x1, three that measure 24x3x1 and one panel that measure 24x5x1. Because they are separate, you can vary the heights and distances to create any effect that you like. The edges are not framed so it provides a clean, elegant yet contemporary look to your room. It pairs well with a formal dining room or a casual living room group.
Check it out now here: Umbra Strip Wall-Mount Mirrors, Set of 7
__________________________________________________________
*Disclaimer: Affiliate links are used on HCH.  Thank you for your support!