Quick and Easy Breakfast Ideas for Kids
Quick and Easy Breakfast Ideas for Kids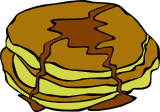 For "Thrifty Thursday" I thought I would offer you some ideas to create some quick and easy breakfast meals.
With cereal costing  mega bucks per pound, I think it's time we ban the cereal isle and make our own breakfast! (And please feel free to share some of your own ideas with the readers here.)

Breakfast is a very important meal.  Studies have shown that children who eat a balanced breakfast are more alert in school, perform better and in many cases are less prone to bad behavior than children who skip breakfast.
Here are some quick and easy breakfast ideas for kids:
Eggs – Eggs are versatile and nutritious, plus most kids like them. Scrambled eggs are quick to make;  you can add a little chopped turkey ham, cheese, chopped tomatoes or mushrooms.  Simple boiled eggs with slices of toast will make an excellent breakfast too.
Bake Ahead Muffins – Muffins aren't always the most nutritious meal, but if you bake your own muffins you can use mashed banana, chopped walnuts and a little honey for a naturally sweet breakfast muffin.
*You can also replace half of the amount of white flour for healthier whole wheat flour.  And you don't have to stick to just sweet muffins; try a savory turkey bacon and chive muffin or cheese and turkey ham muffin. Bake them the night before for a quick and healthy breakfast.
Fruit – Try a fresh fruit salad with a yogurt and cheerio dip. Using a rolling pin, mash a handful or two of whole grain Cheerios in a plastic bag and transfer to a bowl. Fill another bowl with yogurt and let your kids dip the fruit pieces in yogurt then in the cheerio mixture. Whole grain Cheerios have a lower sugar content then many of the cereals on the supermarket shelves.
Pancakes – Prepare a basic pancake batter the night before, cover and refrigerate in the morning. In the morning all you need to do is heat the grill and your entire family can enjoy delicious homemade pancakes. Serve with a little maple syrup or jam and some fresh fruit on the side.  *Peanut butter can also be spread on pancakes for a different flavor.
Pizza for Breakfast – Split a couple of bagels in half, top with a little pizza sauce, grated cheese and some chopped turkey ham. Place under the grill for a few minutes and you have a nutritious breakfast pizza. You can also use English muffins or pita bread.
Breakfast Burrito – Wraps are a great alternative to toast and cereal. You can make a scrambled egg breakfast wrap with a little bit of  turkey ham or cheese added to it or you can add a little cream cheese and turkey or even make a breakfast pizza burrito.
Oatmeal –  You can use your crock pot to make delicious oatmeal that will be ready in the morning.  I also found a nifty recipe earlier this week for "Peanut Butter Baked Oatmeal" that I intend to try really soon.  (It looks yummy!)
Remember breakfast doesn't always have to consist of the traditional toast, cereal and eggs.  You can experiment a little to keep things interesting.
As a final note, don't put too much pressure on yourself to always make the perfect family breakfast. If your kids really aren't hungry at breakfast time a simple banana (or peanut butter spread on a banana) and a glass of orange juice will give them an instant boost.