How did you do with your goals last month?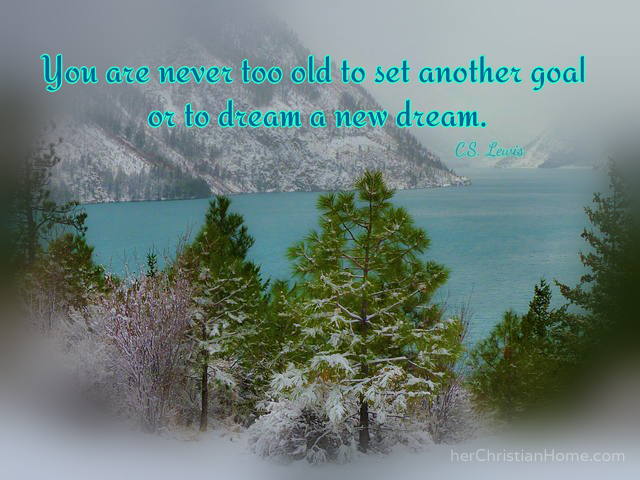 My evaluation for last month:

(

January's Goals

)
Everything went really well.  I tried a new recipe, memorized a new verse, did daily Bible reading and praying. I missed at least once or twice sending a card, but I did reach out more this month in other ways, for instance, at our nursing home.  I have a card ready to go out this week.  I missed the first
"I love you Friday"
because I forgot, but the last few Fridays have been really fun picking out a small treat to say,
"I love you"
.  I know for sure I've missed some opportunities to read to my boys, but I've been trying to grasp those opportunities….even in the car I'm able to catch some reading time with them if my hubby is driving.
Failures: 
My failures this month would be getting my kitchen completely organized.  Sickness came to our house and it became rough to have the energy to do even the small tasks.  I'm still going to plunge ahead because one of my
MAIN goals for this year
is to
get my house organized
. And, I also put my writing on the back burner…but still planning to work on this. 
Was I lazy?
  I'd have to say,
"no"
… I've been working diligently on some of my other blogs and doing lots of editing, posting, site updates, reports, etc.  So, I'm trying to adjust my priorities as I go.  Another failure would be working on my Spanish.
A Word of Encouragement for YOU!
Whether you succeeded with all your goals last month or not, you're only a failure if you quit.  So if you're following me this year on goals, let's not allow the time to slip through our fingers without making a difference in our homes and especially in the lives of our family, friends and others who need our encouragement.
The Bible verse we memorized last month:
"And he said unto me, My grace is sufficient for thee: for my strength is made perfect in weakness. Most gladly therefore will I rather glory in my infirmities, that the power of Christ may rest upon me."  II Corinthians 12:9
February Goals:
(Copied from January's Goals, but adjusted to suit this month)
– Read Bible and Pray Daily
(Good going so far )
– Memorize a new Bible verse(s)
(Good going so far. )
– Take 5 minutes each morning to be grateful. Thank the Lord for all the blessings that I can name.
( Good going so far.)
– Wean myself off of sweets this month.
(Had a great start, but this last week was pitiful…get back in there! )
– Exercise Mon-Sat. 5-10 minutes each morning. Extra 5 minutes here and there throughout the day.
(Good going, don't let the sickness let you quit. )
– Send a card to someone each week.
( Keep it up!)
– Aim to be a blessing to someone each day. (
Pray that the Lord helps you see those opportunities.)
– Start up "Love Day" Fridays again. Do something extra special for hubby and boys.
(Good going so far! )
– Try a new recipe.
(Yes, we love the last one, let's look for another one. )
– Teach boys everywhere I go, everyday, be an example. Be more teachable myself.
( This is a work in process, you can do it!)
– Read, read, read. Read with my boys daily.
(Keep looking for opportunities, you love reading to your children! )
– Write & accomplish my weekly goals for decluttering and organizing.
(You slacked here, but don't quit, keep going forward.)
– Start refreshing my Spanish. (Thurs. evenings)
(Okay, terrible start, let's try cutting back to just

one night

a week to make a good habit. )
– Write daily. New Ebook for Amazon.
( Finish what you start, get that one done this month!)
YOUR Turn! 

Write your goals for February 2014!  How did last month go? 

]]>

<![CDATA[