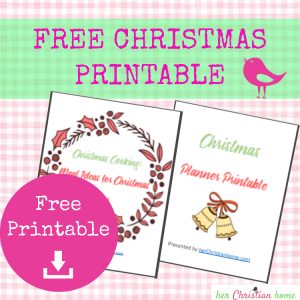 I've just completed a FREE
Christmas Printable Planner
, plus 
Christmas Cooking: Meal Ideas for Christmas Day
Now, I do realize that this is super late, BUT, I wanted to complete it anyway because I will be updating this planner each year and adding more to it.  So, the first year is essentially the hardest part of the labor and updating it will be much easier.
*The Christmas planner ended up being almost 70 pages!  LOL 
*SIDENOTE:  There are just a few printables related to the "Santa" theme.  Although we did not do the "Santa" thing at our house when my boys were little, some people do participate in this. So, I did include just a few of those. Please just ignore those particular ones if this is not something you participate in.
Ministry Helps:  These printables can be used for your own personal use — AND for the ministry. (Offline — church, Sunday school classes, ladies ministry, etc.)
Please do feel free to download your copy!  Members will need to use the password that I provide weekly in my newsletter.   If you're not a member yet, please subscribe today!
*EXTRA FREE GIFT RESOURCE: 
Here's a really nice freebie that I thought I'd share with you…I think you'll love it!
>> Christmas Planner Printables to Prepare You for the New Year