August 25th is the day my special post about Dollar Tree's Greeting Cards AND >>>> The special SWEEPSTAKE GIVEWAY is going live!
Today, I'm giving YOU a FRIDAY FREEBIE!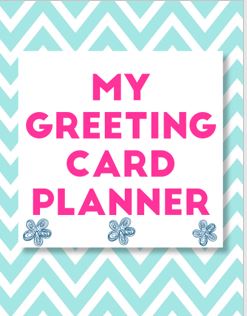 ABOUT your FREE Printable Greeting Card Planner….
First, there's NO strings attached! It's totally FREE! I just thought it'd be SUPER FUN to have a greeting card planner to keep track of all the special birthdays, anniversaries and special events, etc.
Here's what's included:
Printable cover page (Color and Greyscale)
Monthly Birthday Tracker (Organize your birthdays by the month-at-glance)
Card Sending Tracker (This allows you to check who and when you've sent a card)
Birthday Addresses
Card Addresses
Christmas Card List
Thank You Cards Sent
Other Events to Remember
Record Gift Ideas for Women, Men, Teenagers, Children
Four Free Printable Cards
CLICK HERE TO DOWNLOAD PDF NOW
A Few Snapshots of What You'll Get…