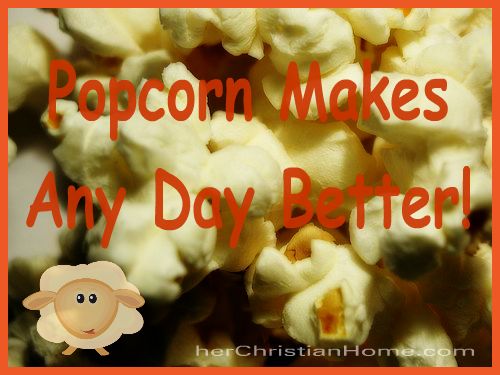 POPCORN!
Love the smell.
Love the popping sound.
Love the homey feeling that you get when it's popping.
Love the flavor…
What more could you ask for in a healthy, but super cheap treat?
From sweet to salty to spicy, there seems to be endless possibilities to the flavoring you can impart on this humble but delicious food.
Here's 7 fun popcorn seasoning recipes and ideas… (but you can share your own favorite recipes to eat popcorn in the comments section below.)
1. Olive Oil & Sea Salt Popcorn



This is what our family usually uses and it's quite tasty with just sea salt added when it's done popping.
For this healthy treat, you'll need the kind of olive oil that is appropriate for sautéing over high heat. You can also mix it with 1/4 or so of safflower oil. This produces a lovely flavored popcorn that needs no butter.
Pour enough olive oil into the popping pot to cover the bottom thoroughly to a depth of around 1/4 inch. (A heavy saucepan works best – just make sure it has a good, fitting lid.)
Turn heat to high. Then add popcorn kernels in a single layer, covering the bottom of the pan.
Salt generously with sea salt. Cover the pan and shake it gently back and forth until you hear popping. Then turn the heat down slightly and keep shaking the pan.
When the popping becomes intense, turn the heat down to low to finish up. Keep shaking. When the last kernels are popping, turn off the stove eye and pour the corn into a big bowl.
Add salt to taste – but do taste it first. The salt you added at the beginning may be enough.
2. Ranch Popcorn
To oil-popped popcorn (either using above method or your favorite method), add a dusting of powdered ranch dressing and toss. Adjust to taste.
You could do the same with any powdered dressing mix. You could even do this with taco seasoning. If you like, you can mix the powdered flavoring of your choice with melted butter before pouring it on.
3. Hot Sauce
I love hot sauce!  I even use hot sauce on my salads! (Yes, I know, a little different, but I love the kick it adds with my simple olive oil and vinegar dressing!)
If you use the deep oil method described in #1 above, you can probably get away with dousing the kernels with your favorite hot sauce and tossing to coat.
If you have air-popped corn or corn that's popped in very little oil, then you can add hot sauce to a little melted butter (or olive oil) to pour over the kernels.
Adjust for your taste, but a good place to start is with a tablespoon of hot sauce per 1/4 cup butter.
4. Cheese Popcorn
After flavoring your popcorn the way you wish, you can pour it on a cookie sheet, sprinkle it with finely grated cheddar cheese and pop under the broiler for just a few seconds.
Another variation on the cheese theme is grated Parmesan cheese and cracked black pepper. Sprinkle them on liberally while the popcorn is hot (so the cheese will melt!).
If you like garlic flavor (I'm a 'garliholic" myself ;)), sprinkle garlic powder on as well.
5. Chocolate Popcorn
Melt dark, semi-sweet chocolate in a double boiler or in the microwave and drizzle it over popped kernels.
Despite the sweetness of the chocolate, you will want some salt to balance out the flavors. If you are trying to cut back, consider using kosher salt. You only need a few grains to pack a nice salty, crunchy punch. Sprinkle kosher salt on after the chocolate so it will stick.
6. Cinnamon Toast Popcorn



Over your hot popcorn, pour melted butter to taste. Then sprinkle on sugar and cinnamon and toss. Work fast – you'll need the popcorn to be pretty hot to melt the sugar slightly and get it to stick.
7. Coconut Kettle Popcorn
This has quickly become one of my family's favorites…(found the recipe online awhile back.on The Mountain Rose Blog).   I love kettle popcorn because of the "sweet and salty" flavor together makes me feel quite giddy. 😉
What makes this recipe even more appealing to me is that it has less sugar than many of the recipes I've seen.  I don't want to feed my boys a lot of sugar…so this is just sweet enough to enjoy, but not too much sugar that I feel terribly guilty over offering it. 😉
Coconut Kettle Popcorn
1/4 C. organic virgin coconut oil
1/2 C. organic popping corn kernels
1 TB. organic sugar
Fine sea salt to taste.
When the first kernel pops, add the sugar and cover the pot.  When finished popping, pour into a bowl and sprinkle with sea salt.
For more Fun "Popcorn Seasoning Recipes and Ideas" — check out the new board on Pinterest that I started.
Now it's your turn to share your favorite popcorn recipes in the comments section below! 😀
God bless you and your family!

_______________________________________________________________________
Featured Product (my referral link)

I'm addicted.