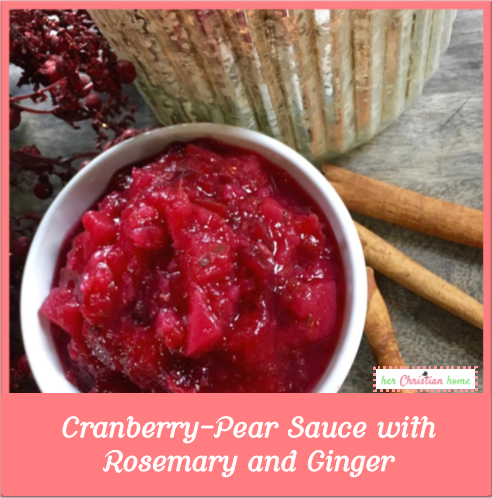 For those who love cranberry sauce at Thanksgiving and Christmas time, here's a simple side dish recipes to add some wonderful nutrition to your eating festivities.
This gorgeous, delicious cranberry-pear sauce is sure to be a hit this holiday season! It's super quick and easy to make and does not include any refined sugar. Instead, it gets its sweetness naturally from ripe pears and a touch of real maple syrup. Once you try this recipe, you'll never look at store-bought cranberry sauce the same.
Featured Product

:

Rachael Ray 3-Piece Cucina Stoneware Round Baker and Lid Set, Cranberry Red  (My referral link)

————————————————————————————-
Cranberry-Pear Sauce with Rosemary and Ginger
Recipe Notes
Prep time: 10 minutes
Cook time: 10-15 minutes, plus 15-20 minutes to cool
Serves: 6
Ingredients:
12 oz. fresh cranberries
2 medium ripe pears, peeled and diced
2 t. fresh ginger, peeled and grated
3 T. fresh rosemary leaves, finely diced
3 T. real maple syrup
¾ c. water
Sea salt, to taste
Directions:
1. Add cranberries, pear, ginger, rosemary leaves, maple syrup, and water to a medium saucepan. Cook over medium-high heat, stirring occasionally, until the mixture starts to boil and the cranberries burst open, approximately 5 minutes.
2. Reduce heat to medium-low and simmer for another 5-10 minutes. While cooking, mash the cranberries and pears with a wooden spoon. Season with a pinch of sea salt and stir to combine.
3. Remove from heat and allow sauce to cool for 15-20 minutes before checking the consistency. Add a little water if the sauce is too thick. Taste and add more maple syrup for a sweeter sauce, if desired.
4. Optional: For a smoother sauce, blend one-half of the cranberry mixture in a food processor or blender until smooth. Stir puree back into the remaining sauce before serving.
5. Serve immediately or chill before serving. Enjoy!