Brother Hoffman, what shall I do?  What shall I do?
"  After quoting some Scripture to encourage her, he then added, "
You cannot do better than to take all of your sorrows to Jesus.  You must tell Jesus.
" [caption id="attachment_4162" align="alignright" width="195"]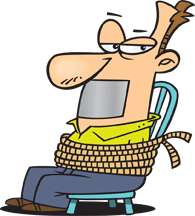 When you can't tell ANYONE, You MUST tell it to Jesus![/caption] Deep in thought, the woman pondered on his advice,  a moment later her eyes lighted up and she exclaimed, "
Yes, I must tell Jesus!
" Rev. Hoffman returned to his study and quickly penned the words of "
I Must Tell Jesus
". It's one of my favorite hymns… and thought I would share it with you today. Often we become quite burdened with our trials…and at times
we can't tell anyone
about them.  It's those times we realize how important it is to 'tell it to Jesus.'  He's the One who's always willing to share our burdens….always has time to listen.  He's the One who has the power to calm the winds and the waves.
I Must Tell Jesus
1.  I must tell Jesus all of my trials, I cannot bear these burdens alone; In my distress He kindly will help me, He ever loves and cares for His own. 2. I must tell Jesus all of my troubles, He is a kind, compassionate Friend, If I but ask Him, He will deliver, Make of my troubles quickly an end. 3. Tempted and tried, I need a great Savior, One who can help my burdens to bear; I must tell Jesus, I must tell Jesus, He all my cares and sorrows will share. 4. O how the world to evil allures me! O how my heart is tempted to sin! I must tell Jesus, and He will help me Over the world the vict'ry to win.
Chorus:
  I must tell Jesus! I must tell Jesus! I cannot bear my burdens alone; I must ell Jesus! I must tell Jesus! Jesus can help me, Jesus alone. ______________________________________________________________
Day 11
 Really, YOU can do no better than to tell it to Jesus!
If you're carrying a burden that you can't tell anyone about, keep telling it to Jesus!  He's listening! In the book I'm reading about prayer, today it focused on how the Holy Spirit can help us see (

or perceive

) things that others cannot see…sort of like a "sixth sense".  I do believe that

the more we pray

,

the more we read our Bible

,

the more we evict sin from our life

so that we don't hinder the Holy Spirit, we indeed have an advantage.   We see opportunities easier and gain more of an insight on situations.  Prayer indeed is one very useful tool that we can use to be more in tune with our Heavenly Father.  Let's pray without ceasing!  (

I Thessalonians 5:17

)  Let's tell it to Jesus!]]>

<![CDATA[Many years ago Rev. Elisha A. Hoffman was a pastor in Lebanon, Pennsylvania.  One day he visited a woman that was very burdened down by many sorrows and affliction.  So very discouraged, she ask, "