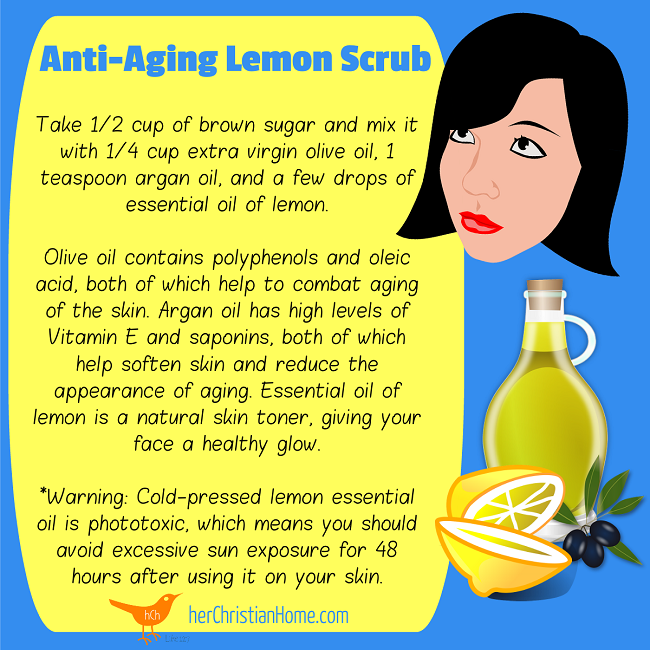 PIN HERE:  https://www.pinterest.com/pin/138204282291947489/
Don't pay big bucks for beauty products!  Falling into the trap of consumerism only sweeps away your hard earned money.
SAVE YOUR MONEY CAMPAIGN:  Share YOUR favorite DIY recipes and tips in the comments below (or on Instagram, Pinterest, or Facebook with the HASHTAG #hchsaveit — I would love to feature a few shares from the HCH community.
Make your own DIY anti-aging beauty product: [Recipe Below]
Take 1/2 cup of brown sugar and mix it with 1/4 cup extra virgin olive oil, 1 teaspoon argan oil, and a few drops of essential oil of lemon.
You can get essential oils pretty reasonable at Rocky Mountain Oils.
You can find Aragan Oil on Amazon Here:  (my affiliate link).
*Although essential oils can be an expensive investment initially, they should last a long while and work much better than the expensive beauty care products at the store.

Olive oil contains polyphenols and oleic acid, both of which help to combat aging of the skin. Argan oil has high levels of Vitamin E and saponins, both of which help soften skin and reduce the appearance of aging. Essential oil of lemon is a natural skin toner, giving your face a healthy glow.
Warning:  Cold-pressed lemon essential oil is phototoxic, which means you should avoid excessive sun exposure for 48 hours after using it on your skin.
Related articles from the web…