Family Game Time Can be Educational!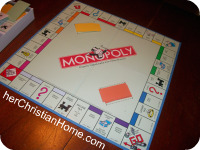 During the Black Friday sales, I picked up a brand new game of Monopoly. I was excited, because as a teen, I loved to play this with one of my friends….we played for hours….and I would keep loaning her money just to keep the game going.  (Just to let you know,  that's against the rules, but apparently, I didn't read the Monopoly rules too well at that age. lol)
Now back to the present:
Since it had been years since I played, I sort of dreaded the first time we were going to play.  We sat there intently reading through every rule and then sorted out all the game pieces and finally gave every player their share of money. (You wouldn't believe how excited my boys got about their own stash of money…they thought they were really rich!) Whew!  By the time we accomplished all of this, I was already tired.  I sort of hinted that maybe we should wait until
tomorrow
to play now that we had thoroughly covered all the Monopoly rules…but they spurred me on…anxiously waiting to start the game. Once we started playing…we had soooo much fun!!!!  I found myself having an amazing time with my boys.  We decided to play again the next day too.  It was quite addictive.
Making it an educational time…
I'm the mean banker…I make each player tell
me
the "exact change" that I need to give back when they buy property.  Thankfully, their math skills are quickly sharpening by doing this. I have found that monopoly can be quite educational for children if you take the time to teach and instruct about them using their money…and allow your kids to think for themselves during the game.
Resource:
If you hate reading rules, here's some interesting videos on "
Basic Monopoly Rules
"
Please feel free to share some games that you and your family use to help build educational skills.

]]>

<![CDATA[