<![CDATA[
How to Live Within Your Means
The rich ruleth over the poor, and

the borrower is servant to the lender

. ~ Pr. 22:7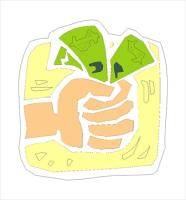 Many families are struggling to live within their means, either because they have already accumulated too much debt, or because their spending habits are uncontrolled and they simply don't know how to manage their money.
Here are a few quick tips on how to live within your means and keep yourself debt-free:
1. Cut Up the Credit Cards.
Credit cards create a huge temptation to spend money you don't have. If you must have one card, leave it at home while shopping and place it in the care of the person most responsible for your family's financial health.  Never use it except for emergencies that may occur such as while traveling.  If you must use your card in the case of an emergency, put top priority on paying back the charge within a very short time to avoid the extra expenses of credit card fees.
*Note:
If you already have credit card debt and are carrying large payments at high interest that are crippling your budget, talk to a community credit debt counselor. There are many groups that offer this service for free. They'll help you to understand how your debt can be cut down faster, and whether a consolidation loan is a good idea.  Also, consider grabbing a copy of 
The Financial Facelift
for helpful guidance and information on eliminating debt.
2. Create a Simple Budget Plan to Follow.
Even a simple budget written down in a notebook will work, or you can go the extra mile by creating a spreadsheet on the computer. Start creating your budget by gathering all your bills, and calculating your monthly expenses, remembering to include a 1/12 portion of any annual expenses. (Also, it's wise to create an emergency fund by setting aside a small amount each month to place into savings.)  Next, take your gross income and figure out how much should be set aside per week for absolute essentials. Whatever remains after your necessary expenses is what you have for additional options such as saving for vacations, education or retirement funds and entertainment.
3. Consider the Question, "Can I Live Without It?"
Before you buy, always determine if you really need it. Thinking of buying a new stereo system or a new car?  Ask yourself if it's worth going into debt for, or just how far it will stretch the family budget.  If it's something you feel that you absolutely need, do some price comparison shopping first.  To save even more, consider buying "used" items at thrift stores, garage sales and from your local classified ads.
Above all, don't forget to pray about your needs
!  Remember, when you live within your means, you eliminate financial stress and enjoy the many blessings from God who will faithfully supply all your needs.
*Click here to get:  The Financial Facelift, Christian-based information on eliminating debt.
]]>
Please help share my content: