Easy Homemade Chicken Stock Recipe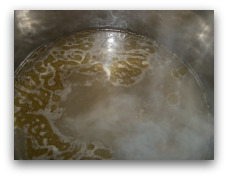 I've planned for quite some time to share my homemade chicken stock recipe (
I even took the photo shown here a very long while back
). Anyway, after my 12-year-old son saying how much he loved my broth at least four times tonight during supper, I felt inspired to share it with you all because I believe good chicken broth is the key to making delicious soups….and it's so easy to do.   It literally only takes a couple of minutes to toss everything together; after that there isn't much maintenance at all to do.
(Next week I'll share my egg noodle recipe to make Homemade Chicken & Noodles!)
Tips:
*I use celery to munch on during the week for snacks…so no use wasting the tops!   I save all my celery tops with the leaves in a baggie or plastic container and use them for making my stock instead of a whole celery rib. *If the carrot cooked in the stock is still fairly firm in shape, I save it to slice up in very small pieces and add it to my homemade chicken and noodles when they are finished.  You won't need to add your carrot until your noodles are completely finished because your carrot is already cooked.  It's also easier to slice it in very small pieces for your soup since it's soft.
Easy Homemade Chicken Stock Recipe
1 Chicken Carcass including the neck.
(I often collect about 3 carcasses in the freezer and then make my broth when I'm ready…often the day before  I want to use the broth.)
1 large carrot halved 2 ribs of celery halved 1 onion halved 2 bay leaves 10 peppercorns 4 whole garlic cloves 1 heaping tsp. salt (or none if you are on a salt-free diet).
*Additional items only if you prefer:
toss in some thyme and parsley. Place items in large pot.  Pour 1 gallon of water over content and bring to a boil.  Once it comes to a boil, turn down to low or medium heat and let it simmer 2 – 3 hours.  *For the first hour, skim off any scum every 15 min. or so. *The longer you cook your stock, the more concentrated it will be.  Once your stock is finished, run it through a strainer in order to pour clear broth into your container and refrigerate.  Discard the rest. *To make bigger batches of broth in a large stock pot, save your chicken carcasses in the freezer and cook 2 – 4 carcasses  at once and increase some of your other ingredients.  Turkey carcasses also do just as great!
]]>

Please help share my content:

<![CDATA[