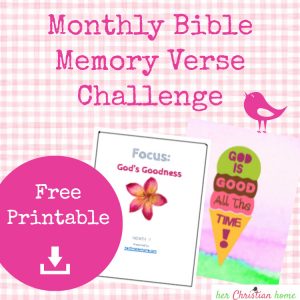 I've chosen the word
"God's Goodness"
for this month.  Good is good to us every single day.  I hope you will get inspired to memorize
MORE
of God's Word on a weekly basis.
[Mini Devo]
This week I read a Bible verse that inspired my choice for this month's topic…
Truly God is good to Israel, even to such as are of a clean heart. – Psalm 73:1 KJV
Every time that I hear or read this Bible verse, I always hear it like this in my mind… "Truly, God is good to RHONDA, even to such as are of a clean heart."  I'm reminded that God is personally good to me.  He knows me by name…and He knows your name.  You can put your name right in Psalm 73:1. Try it!
How do we evaluate God's goodness?  If we don't see God's goodness, perhaps we're evaluating His goodness by comparing what our neighbor has to what we don't. Perhaps we're looking at material possessions to evaluate His goodness. This will leave us feeling disappointed or feeling like God favors others more than ourselves.
The FOUR Bible verses (*read them below), that I've chosen this month, proves that God is good and merciful to you and I.  We will understand how good He really is to us when we put our trust in Him. We trust that He ALWAYS has our best interest in mind… to give us an expected end. (Jeremiah 29:11)
We can also understand His goodness more than ever when we LOOK directly on what God has done for us on our behalf. Because of our sins, we deserve so much worse.  But, because God is so good and merciful, we receive His mercy and loving favor. We've received the ULTIMATE GIFT of eternal life. (John 3:16)
God is good all the time!
May God bless you and your family,
Rhonda White
==========================================
Monthly Bible Memory Verse Challenge:
Our new topic is GOD'S GOODNESS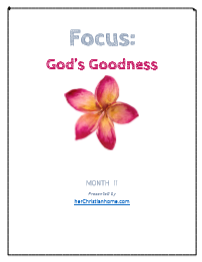 H
e
re's a snapshot of the printable poster this month: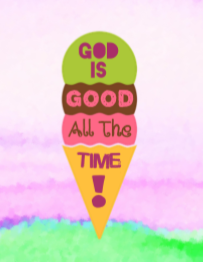 Bible Memory Verses on GRACE
Week 1:
Oh how great is thy goodness, which thou hast laid up for them that fear thee; which thou hast wrought for them that trust in thee before the sons of men!
Psalm 31:19 KJV
Week 2:
O taste and see that the LORD is good: blessed is the man that trusteth in him.
Psalm 34:8 KJV
Week 3:
O give thanks unto the LORD, for he is good: for his mercy endureth for ever.
Psalm 107:1 KJV
Week 4:
The LORD is good, a strong hold in the day of trouble; and he knoweth them that trust in him.
Nahum 1:7 KJV