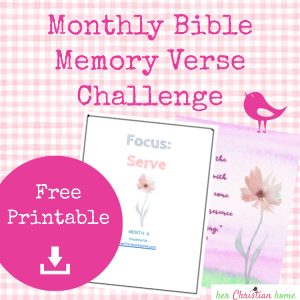 I've chosen the word
"SERVE"
for this month.  As we begin a new year, I want to think of all the opportunities to serve the Lord MORE than I did last year.
[Personal Note from Me:  My Word for 2018:]
I like to choose a personal focus word each year, and the word that I've chosen this year is the word "CHOOSE" I believe our daily choices make a real difference in our own life and in the lives of other people.
Joshua 24:15 (KJV) And if it seem evil unto you to serve the LORD, choose you this day whom ye will serve; whether the gods which your fathers served that were on the other side of the flood, or the gods of the Amorites, in whose land ye dwell: but as for me and my house, we will serve the LORD.
– I choose to do right.
– I choose to smile.
– I choose to sing.
– I choose to read my Bible
– I choose to pray
– I choose to be a blessing
– I choose to NOT quit
– I Choose to be used of God
…and the list is growing as I add to it in my journal.
NOTE About the Memory Bible Verse Challenges: You can START doing our monthly Bible memory verse challenge at anytime you wish!  You can pick and choose any topic you wish from the list on [this page].
As far as my progress on Scripture Typer:  I'm still at level 14 with 2,864 points! 🙂  If you'd like join our group online, check out: Scripture Typer
Our new topic is SERVE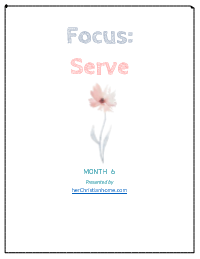 H
e
re's a snapshot of the printable poster this month: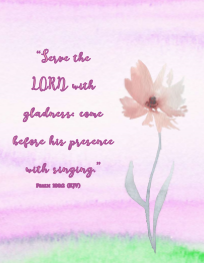 Week 1
"And if it seem evil unto you to serve the LORD, choose you this day whom ye will serve; whether the gods which your fathers served that were on the other side of the flood, or the gods of the Amorites, in whose land ye dwell: but as for me and my house, we will serve the LORD."
-Joshua 24:15 (KJV)
Week 2
"Only fear the LORD, and serve him in truth with all your heart: for consider how great things he hath done for you."
-1 Samuel 12:24 (KJV)
Week 3
"Ye shall walk after the LORD your God, and fear him, and keep his commandments, and obey his voice, and ye shall serve him, and cleave unto him."
– Deuteronomy 13:4 (KJV)
Week 4
"Serve the LORD with gladness: come before his presence with singing."
– Psalm 100:2 (KJV)