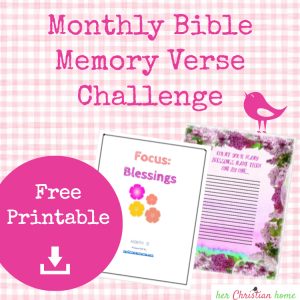 I've chosen the word
"BLESSINGS"
for this month.  Oh, how many blessings we receive from our Heavenly Father…and yet, sometimes we completely miss them because of our busy lives! Or, perhaps we tend to focus on the negative more than the positive.
How do we know that God blesses us? 
His Word says so!
Blessed be the Lord, who daily loadeth us with benefits, even the God of our salvation. Selah

– Psalm 68:19 KJV
[Mini Devo]
---
Please read this…
18 Therefore shall ye lay up these my words in your heart and in your soul, and bind them for a sign upon your hand, that they may be as frontlets between your eyes.
19 And ye shall teach them your children, speaking of them when thou sittest in thine house, and when thou walkest by the way, when thou liest down, and when thou risest up.
20 And thou shalt write them upon the door posts of thine house, and upon thy gates:
21 That your days may be multiplied, and the days of your children, in the land which the LORD sware unto your fathers to give them, as the days of heaven upon the earth.
Deuteronomy 11:18-21 KJV 
>>> As we read the reference above, we can clearly see that we are to memorize God's Word in our hearts. (18)  We should also be constantly speaking of His Word to our children all throughout the day. (19)  We're even encouraged to put God's Word as decor around our house. (20)  And God's Word tells us that we and our children will be BLESSED for doing so! (21)
May I encourage you to start memorizing God's Word daily?  Take baby steps… start with just one verse each month if you're overwhelmed with the task.  The more you practice, the easier it will become — and you will be blessed!
God bless you and your family,
Rhonda White
==========================================
Monthly Bible Memory Verse Challenge:
Our new topic is BLESSINGS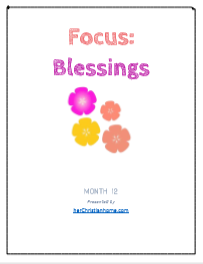 H
e
re's a snapshot of the printable poster this month:
Count your many blessings name them one by one…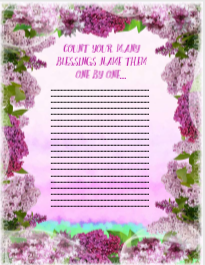 Bible Memory Verses on GRACE
Week 1:
Bring ye all the tithes into the storehouse, that there may be meat in mine house, and prove me now herewith, saith the LORD of hosts, if I will not open you the windows of heaven, and pour you out a blessing, that there shall not be room enough to receive it.
– Malachi 3:10 KJV
Week 2:
And all these blessings shall come on thee, and overtake thee, if thou shalt hearken unto the voice of the LORD thy God.
– Deuteronomy 28:2 KJV
Week 3:
A faithful man shall abound with blessings: but he that maketh haste to be rich shall not be innocent.
– Proverbs 28:20 KJV
Week 4:
Blessed is every one that feareth the LORD; that walketh in his ways.
– Psalm 128:1 KJV