Just how BIG and MIGHTY is God?
Really, think for a moment… and seriously try to answer that question.
Whatever your answer is — you're wrong!
He's bigger and mightier than even that! 🙂
Our human mind often struggles to understand or grasp the wondrous love and power of our Heavenly Father.
In saying that, we often allow "unbelief" to seep into our thoughts and hearts.
A friend sent me an email last Friday, as an encouragement. She's also the one that inspired me to write this devotional about the topic of "unbelief".
She had been reading 2 Kings 4:8-17. In this reference, we read about a woman from Shunem, who often fed the prophet, Elisha, when he passed through that way on his journeys. This woman spoke with her husband about a burden she had in her heart — to build a little guest room for Elisha on the side of their house.
To explain briefly, Elisha inquired what could be done on behalf of this woman's kind deeds. He found out that she had no children and that her husband was old. Elisha then proceeds to promise her a son.
Please take note of this Shunammite woman's response in verse 16. She responds, "Nay, my lord, thou man of God, do not lie unto thine handmaid."
It seems that the Shunammite woman felt that Elisha might be lying to her. She was bold enough to call him out about it! I believe she was experiencing some "unbelief" and was perhaps leery about believing Elisha's word.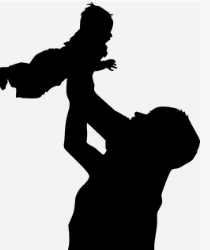 She probably wanted to believe the good possibility of finally having a son of her own, but feared getting her hopes up. (Don't we all become a little fearful of getting our hopes up when past experiences have seemed less than fortunate?)
Despite the Shunamite's womans lack of belief or negative response, we see that God indeed blesses her with a son, just as Elisha has said. (II Kings 4:17)
We can't let unbelief in God's ability to do anything possible seep in and crumble our faith!  God's timing is perfect! This woman had a son when it was God's perfect time for her to have one!
Our Heavenly Father is so merciful and good to us, even in our moments of doubt and unbelief… 
I, too, have struggles with doubt and unbelief. Our fleshly nature tends to look at the negative side of situations. We become fearful about the "what ifs" in life.
Sometimes I pray and ask God to mercifully help my "unbelief" just as a certain father did in the New Testament, whose son was possessed with an evil spirit since his young childhood.
I absolutely love this man's confession of his unbelief!
Jesus said unto him, If thou canst believe, all things are possible to him that believeth. And straightway the father of the child cried out, and said with tears, Lord, I believe; help thou mine unbelief. – Mark 9:23, 24 KJV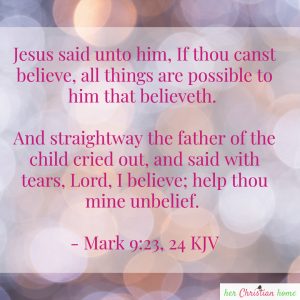 At times, you and I may struggle to have the faith like we should. We may have some faith, but perhaps it's wobbly.
Let's take this man's example and confess our weakness to our Heavenly Father. When we do, I believe we will also obtain mercy.  God can still mercifully bless us!
But beware…
There are times when we miss out on God's wondrous works and blessings because of our unbelief…
One of the saddest statements I've read in the New Testament is…
"And he did not many mighty works there because of their unbelief."   Matthew 13:5 kjv
Isn't that such a sad outcome?
This community that Jesus wanted to bless, missed out!  And it was because of their unbelief!  Can you imagine what could have been accomplished there? But, they missed out…Jesus was hindered from doing mighty works there because of their unbelief!
Are you missing out because of your unbelief?
Confess to your Heavenly Father of your weakness, and then work on building your FAITH!
The WORD of GOD is our main key to increasing our faith and overcoming our "unbelief."
"So then faith cometh by hearing, and hearing by the word of God."  – Romans 10:17 KJV
We DO have help with our unbelief! 
It's through the power of the Word of God!
Confess it. Ask for help from God!  Read God's Word daily!
May God bless you and your family,
Rhonda White
~ The grace of our Lord Jesus Christ be with you.  I Corinthians 16:23 KJV