*This page contains affiliate links to the product that I'm reviewing. The review is my own honest opinion. If you purchase through my link I may earn a small commission; however, you will not pay extra because of this. It's simply a small thank you token from the merchant for referring others to their products.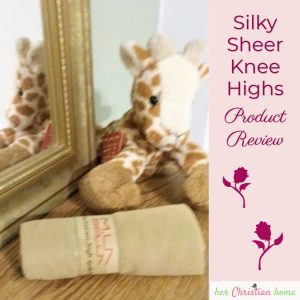 I've been meaning for quite awhile to share my FAVORITE knee high hose ever…and FINALLY this is the day that I get to share it with you.
First of all, let me be frank… I dislike wearing hose, but I do wear them on Sunday mornings to church and other dress up occasions.
The good news is that if you wear longer dresses and skirts you can get by with wearing knee high hose. In the summer time, this is a HUGE relief due to the hot, humid heat.
I've been kind of dissatisfied with knee high hose purchased from local stores. The texture is not pleasant. They get kind of get knotty and worn-looking after awhile.
I decided I wanted to invest in something of higher quality. Now, I don't always splurge on clothes. I buy about 90% of my clothes from the second hand stores. But, considering that a single pair of hose lasts me months and months, I knew it would be a worthy investment of wearing something that felt nice on my skin.
I did a little research online, reading through many reviews, and decided to try a pack of Women's 6 Pack Silky Sheer Knee High trouser socks reinforced toe
I've been so HAPPY with the quality of these knee high hose…I decided that I really wanted to share with you some of my favorite products, and this one absolutely qualifies.
Each pair is individually wrapped with a paper label. (Looks lovely storing them in your drawers or to give a couple away as gifts.)
The texture of these hose is so silky, which to me, seems to help prevent snagging. >> Which I haven't even had my first pair snag yet, and I've been wearing them since the end of May (2018).
The toes are reinforced, but almost discreetly. The toe area still appears rather sheer. They do offer some other colors and ankle sizes. Grab your own pair HERE.
If you have any questions, please feel free to ask me in the comments section below.
See my personal photo shots below….