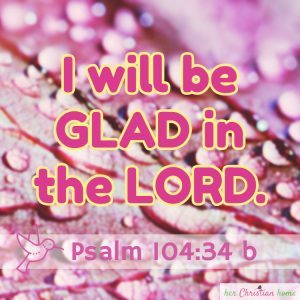 Turning on the news these days does not seem to bring me much gladness.  Have you ever come away feeling happy and uplifted after hearing about fires, floods, earthquakes, volcano eruptions, tsunamis, violence and other catastrophes from all over our world?
I suspected not. Me neither.
The good news is that our meditation of our Heavenly Father is sweet. It can bring calmness as we can ponder on all the goodness of God. Our meditation of Him can bring peace as we think about all His wonderful promises written in His Word.  We can also turn to the last book of Revelation and read the end of the story. We can get GLAD!  It's good news for the children of God!
Proverbs 25:25 kjv says, "As cold waters to a thirsty soul, so is good news from a far country."
How satisfied and GLAD we are as we sip on cold water after being so hot, thirsty and dry.
We can be GLAD in the Lord as we sip on His Word!!  Even during the sad days that we are living in!
Let me encourage you, sweet sister in the Lord, that you can be GLAD today.
Direct your thoughts to our God above!
Keep sipping on the Word!
Read HIS NEWS daily!
No one ever comes away sad and hopeless after reading God's Love Letter — The Holy Bible.
"My meditation of him shall be sweet: I will be glad in the LORD." – Psalms 104:34 KJV