"In like manner also, that women adorn themselves in modest apparel, with shamefacedness and sobriety; not with broided hair, or gold, or pearls, or costly array;  But (which becometh women professing godliness) with good works."  I Timothy 2:9,10
As I've said before, I'm not a fashion queen…  I'm by far from ready to step into the roll of being a fashion mentor or coach or whatever you want to call it.  If I plan to be "stylish" on any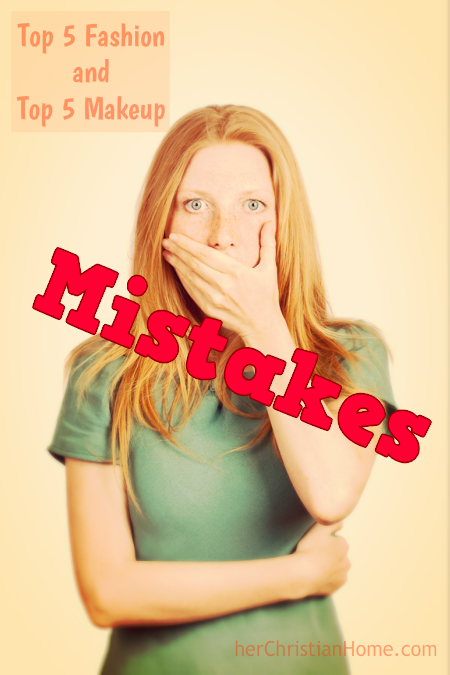 given day, I have to spend at least an hour trying on
this-n-that
to make it all come together.
How about you?  Does it come easy for you, or do you have to work at it?
On most mornings, I slap on my makeup in 5 minutes.  I only curl my bangs on the morning after I wash my hair from the night before…so usually I just comb through it.  (
*Check this post out on how I create heatless curls, which also saves me a ton of time in the mornings:  Click here
)  And so, I keep my routine as short as I can on most mornings except church days. So, let's dive into those mistakes!  With Christmas parties and New Year's parties coming up, discussing fashion can be a helpful thing.
*You're certainly welcome to add to this list in the comments section below…
Top Five Fashion Mistakes that Women Make
1. Bigger is definitely not better
– We're talking about clothing here. Whoever said that wearing baggy clothing was stylish or made you look thinner, wanted a good laugh at someone else's expense. In a nutshell, it just looks sloppy. And, it makes you look older. Ever notice that some elderly people do the same? For anyone of any age, wear clothes that fit your size and shape. That is the most flattering of all.
2. Do not sneak into your daughter's closet
– There's nothing worse than a mom who dresses like her daughter. Can you say, "Recapturing your youth?" It isn't happening and everyone knows it. Trends that are good for young girls just look awkward on their mothers.
3. What hides beneath is not flattering
– Clothes too tight and light-colored clothing showing what color underwear you're wearing isn't flattering…and it's not modest.  It leaves  little to the imagination.  Too much information for the rest of us, that is.
4. Mismatched clothing
– Colorblocking is one thing but clothing material that doesn't even remotely belong on the same body at the same time just isn't pleasant to see. When shopping, have a plan for your wardrobe and your own signature look. Picking up odds and ends can leave you with a closet full of junk no matter how much it costs.
5. These shoes are made for no one
– An outstanding outfit can be brought low by the wrong shoes. Just because it looks cute on the rack doesn't mean it will be cute on you or with your outfit. Flats are often more comfortable, but can make an outfit look dumpy, particularly on an extra long dress or skirt. Too many straps across the foot are also a no go. Choose a complementary color, not one that signifies your feet didn't get the memo about today's outfit.
Top Five Makeup Mistakes Women Make
1. Drawing on your face
– Drawing your eyebrows in is a no-no. That single thin line along the brow bone actually gives you more of an alien "I come in peace" look. For thin eyebrows, use brow powder to give the illusion of fullness. Another trick is to use a brow pencil in short feathery strokes amongst your natural brows and then brow powder on top.
2. Dark lip liner on light lips
– This is a totally 80s look and is no longer in fashion – anywhere. Black lip liner with red lipstick or red liner with nude lipstick is not happening. Always try to match your lip liner to the color of your lipstick for a flawless look that shapes the lip without bleeding and feathering.
3. Cat eyes
– We've all seen it. The eyeliner that extends so far outside the corner of the eye that you look like you stepped out of an Egyptian hieroglyph. It is not necessary to create a dramatic eye. Instead, use a liner pencil and frame the upper and lower lashes with both lines meeting no more than a quarter of an inch past the eye's corner.
4. Clumpy mascara
– It makes it look like you got made up in a hurry. Lashes make eyes "pop" when they are each smoothly coated to the end with a mascara brush. They lengthen and separate. What is not so cute are intermittent clumps along the lashes that can be easily seen. There was probably too much mascara on the brush before you started. Combing lashes after application can remove such clumps.
5. Cherry cheeks
– It is not necessary to make the apples of your cheeks noticeably brighter that the rest of your face. A good blush application is one that gives you a hint of colorful flush that seamlessly blends in with the rest of your skin color. Always bump off any excess blush from the brush before application.
Okay… so any pet peeves of your own to share?  Let's chat…
Related articles from the web…
]]>

<![CDATA[