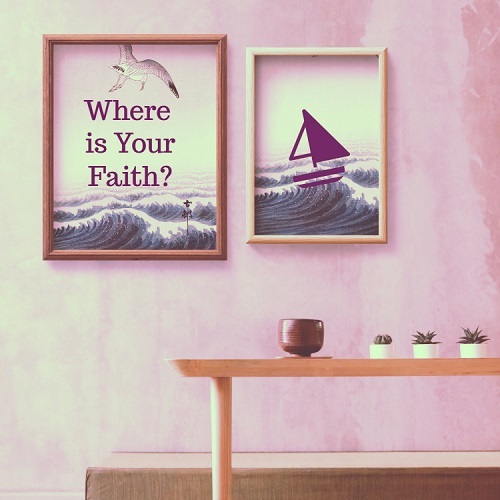 "And he said unto them, Where is your faith? And they being afraid wondered, saying one to another, What manner of man is this! for he commandeth even the winds and water, and they obey him." – Luke 8:25 KJV
One day, Jesus got into a ship with his disciples to go to the other side of the lake. (Luke 8:22)
I'm sure this was a common practice of traveling during these times when you lived near water, but I do doubt the decision to travel by ship or boat was considered if the skies looked exceptionally stormy. So, I'm assuming it was a rather pleasant day when they launched out.
Jesus must have been in great need of rest because he fell asleep during their journey across. (Luke 8:23) (I might as well insert my own witty jester here and say, "I'm a lot like Jesus"… because something about traveling makes me sleepy and before you know it, I'm settling into a nice, peaceful nap. ha! ha!)
Some time after Jesus fell asleep, a storm came and evidently, it got pretty rough… water started filling up their ship, and the situation became perilous.
The disciples decided it was time to wake up Jesus. They frantically let Jesus know they were about to perish. (Luke 8:24)
But were they really about to perish? From their perspective, the circumstances certainly looked hazardous.
Jesus responded without hesitation to their need. He got up and rebuked the raging wind and water.
Immediately afterward, the winds ceased; the water calmed. Just imagine how quiet every thing must have been compared to the recent, intimidating storm.
Jesus then asked his disciples a short, simple, direct question, "Where is your faith?" (Luke 8:25)
The disciples wondered among themselves about this man, Jesus, who commanded the winds and the water. Were they surprised that nature obeyed Jesus?
Here's a few things to consider from this story…
Even though the storm may have taken the disciples by surprise, it certainly was no surprise to Jesus. (The storms in our life are no surprise to God either. He is ALWAYS in charge of the storm!)
Even though the disciples fretted because they didn't see God's immediate help during the storm, He was right there beside them (in the ship), the whole time. (We often become fearful during the storms of life, but Jesus is there right beside us, the entire time. We are never alone!)
The disciples failed to recognize who Jesus really was… if they had understood the full power of Jesus, who was God in the flesh, they would have not been fearful and lacking of faith. (Do we shortchange God in the same way? Do we doubt that He has the power to help us through our trials, no matter how perilous they may seem?)
"Be strong and of a good courage, fear not, nor be afraid of them: for the LORD thy God, he it is that doth go with thee; he will not fail thee, nor forsake thee." – Deuteronomy 31:6 KJV
4. The sooner the disciples had gone to Jesus, the faster the storm would have been vanished away. Jesus wasn't upset about being awakened from his nap. His concern was in their fearfulness of perishing when He was right there with them! The ONE who was in charge of the storm — in charge of everything was right there! (How often do we labor exhaustingly, trying to survive the storms of life in our own effort? The sooner we go to God about our needs, the better off we will be!)
5. Determine where your faith resides. Does your faith rely on your own boat to stay afloat, or does it rest calmly on the Creator of the boat? Jesus (the Master of the sea) asked his disciples, "Where is your faith?" We should also consider this self-evaluating question.
Today, let's look at our circumstances from a different perspective. Let's not ponder how great our problem is, but stand in awe of how great our God is!