one
ingredient that can make or break your recipe?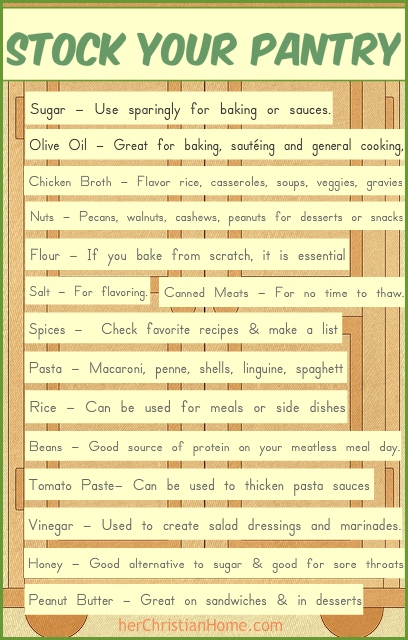 It's happened to us all. One way to avoid that is to always have certain food items on hand in your pantry.
You might be wondering how you can possibly maintain all the essentials while keeping your food costs (and waste) low. Many times, the item you need is something that you will always use. It just seems to be empty at the time.  Also, remember, less trips to the store to grab another item often means saving money because people often snatch other items while at the store.
Create your Master Pantry
There's some things to consider when stocking your pantry…
What foods do you eat most? What is needed to create those meals and desserts?
So, here's 15  essential items that any kitchen pantry needs:
Sugar – – It has gotten a bad rap in the past few years…particularly because it's been proven to cause weight gain. Use sparingly. Even better, experiment with Stevia and other natural sweeteners that will not elevate your insulin level. Any baking or sauces that you make may require this ingredient.
Olive oil / Coconut oil – Great for baking, sauteing and general cooking, this oil is heart healthy.
Chicken Broth -– Use to flavor rice, casseroles, homemade soups, vegetables and gravies. It is a versatile item and lower sodium varieties can limit the amount of salt you use.
(NOTE: I save all my chicken bones and freeze them until I collect several bones…and then make my own chicken stock.  It's a lot easier than you think — just make plans to do it on a certain evening and let it simmer on the stove top while you do other things.  *Easy Chicken Broth Recipe )
Nuts  – Pecans, walnuts, cashews and peanuts are used in a variety of desserts or just to eat alone.
Flour – If you bake from scratch, it is essential. *There's some healthy options available.  Decide what you like to use and watch for sales.
Salt – When you flavor food as you cook it, there is no need to add more later on.  *Sea salt is what I use.
Spices – This includes all the dried herbs and spices you need to add flavor to various dishes.
Pasta  – Which do you prefer: macaroni, penne, shells, linguine, or spaghetti? (*I use low carb pastas or make my own.)
Rice – Brown or white or even long grain can provide a side dish for any meal.
Beans  – A good source of protein on your meatless meal day.
Tomato Paste –  Can be used to thicken your spaghetti sauce. (I also freeze my extra garden tomatoes in the  summer to use for soups and stews during the winter.)
Vinegar  – Used to create salad dressings and marinades.
Honey – A good alternative to sugar and good for sore throats. *Local honey is a good immunity booster.
Peanut Butter  – Great on sandwiches and also in desserts
Canned Meats –  Easy to use for meals without thawing time  *Use sparingly… I usually purchased canned salmon to have on hand to make quick salmon patties.  Easy Salmon Patties recipe
*Pin this Post on Pinterest Here:  https://www.pinterest.com/pin/138204282288536274/
So, it YOUR turn… tell me… What's in your pantry?
Have you every started cooking something and then realized you were missing that