Want to cook healthier, but just not sure what to do with all those weird looking foods in the fruit and vegetable department? Read on…I've got plenty of ideas for you…
Eight Ideas for Avocados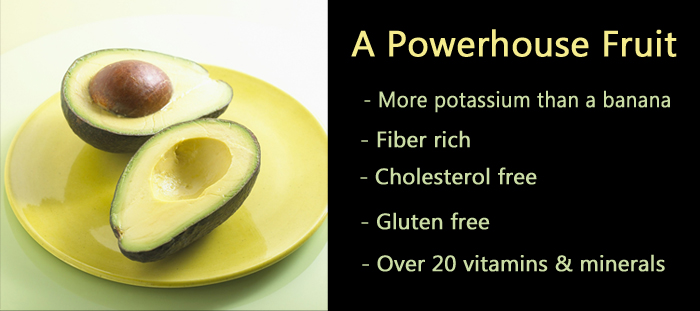 There are more ways to enjoy avocado than just in Mexican dishes. Avocado is such a great source of
healthy
non-saturated fat that's good for you, and it's also
high in protein
. It's a filling and buttery-tasting fruit
(or vegetable, if you prefer to call it that
) that you will surely want to be eating on a regular basis. So if you were unsure about avocado before, then try out some of these easy ideas for enjoying the taste of avocado.
Eight Ideas for Avocado: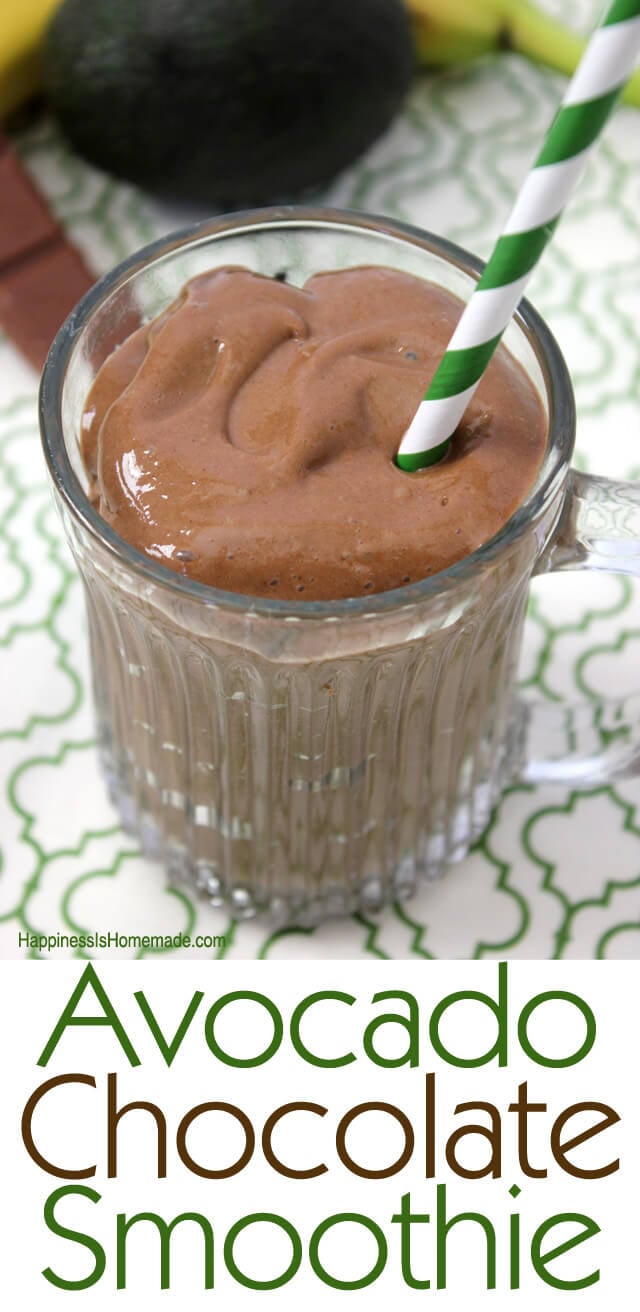 1. Make an avocado smoothie
My recipe pick: 
Avocado Sunrise Smoothie and Avocado Chocolate Smoothie
2. Make an avocado salad
Add tomatoes, onion, olives, cilantro, jalapeno pepper, oil, lime juice, cumin and salt to a bowl and mix well. Let sit for 15 minutes then mix in avocado which has been pitted and cut into chunks. Put some mixed greens on a plate and place a mound of the avocado mixture in the center. Add some grilled shrimp to this dish for a little added flair. You can really add avocado to just about any salad, though. Just slice it up and put it on top.
My recipe pick: Grilled Chicken, Bacon & Avocado Salad
3. Make an avocado soup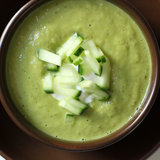 My recipe pick:
Belly Blaster: Chilled Cucumber and Avocado Soup
4. Add avocado to your burrito or taco
No time to whip up
guacamole
? No worries!  Make that burrito or taco super special by quickly slicing and dicing up an avocado and add it to your taco or burrito!
5. Try a veggie smoothie with avocado
For something the whole family can enjoy, combine apple, avocado, spinach, plain yogurt, egg whites, raspberries, water, and ice. Blend until smooth and creamy. Enjoy!
6. Tuck tuna inside an avocado half
Cut open an avocado and remove the pit. Spoon tuna into the center where the crater was left with the pit removed. Drizzle a little lemon juice over the tuna.
7. Try avocado sandwiches 
Instead of lettuce and tomato on your sandwich, add slices of avocado to any sandwich. Turkey, chicken, and even egg is yummy with avocado added.
8. Avocado and tomato soup
Instead of just plain old tomato soup, make it a tomato and avocado soup. Just make your favorite
tomato soup
and top it with avocado and some yogurt.
Featured Product:
Avocados offer a wealth of health benefits including a source of healthy fats for the body, vitamin C, K, E, B6 and potassium. You'll find in the virtual pages of this book
80 recipes
that highlight the avocado in every meal of the day including dessert. Give your menu a southwestern facelift with this little gem.
Absolutely Avocados
Five Ideas for Cooking Quinoa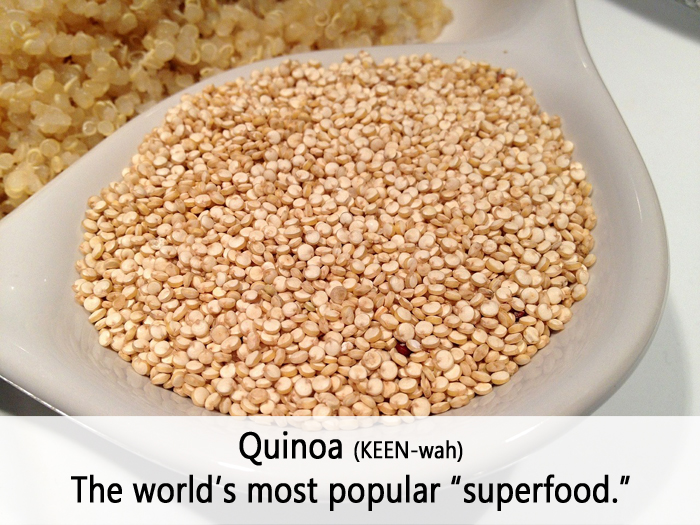 Quinoa
is a grain that is
high in protein
and also
gluten free
, making it a great super food that's very versatile. It has a mild taste with a rich texture which makes it the perfect grain to use in so many different kinds of dishes.  Quinoa especially makes a great substitute for any rice dish. So the next time you reach for the rice, try quinoa instead.
*NOTE:
Quinoa is coated with a soapy substance called saponin, which tastes bitter and will affect the taste of your quinoa. Some quinoa is pre-washed, but you might want to wash it again just to make sure the taste isn't affected. See below on "how to properly clean and toast quinoa."
"To cook quinoa, simply stir it into boiling water or broth, cover and simmer over low heat until done. The

ratio

is 1 cup of uncooked quinoa to 2 cups of liquid." – EatingWell.com
Five Ideas for Cooking Quinoa
1. Toast it and toss it on a salad
When you toast quinoa it gives it a nutty taste, making it a great topping on any salad. Toasting quinoa is simple.
Read:  How to Properly Clean and Toast Quinoa
2. Have it as a side dish
It pairs well with seafood, poultry, or pork. – Toast your quinoa. – Then sauté some onion, chiles, and garlic. – Add the quinoa and some broth to the pan and allow to simmer. – Cover and cook until most of the liquid is gone and the quinoa is tender.
My recipe pick:
Creamy Parmesan-Garlic Quinoa
3. Fried quinoa
If you like fried rice, then you'll really love this fried quinoa. Having quinoa instead of rice makes it a healthier dish. – Start by toasting the quinoa. – Then add the quinoa and some chicken broth to a pan and allow to simmer until the liquid is mostly gone. – Take the quinoa out and spread on a baking sheet. – Then sauté some garlic and ginger. – Add some vegetables and cook until tender. – Add some soy sauce, the quinoa, and pepper to the vegetables, stirring frequently until cooked through.
4. Use quinoa instead of rice in stuffed peppers
– Boil quinoa in two cups of water. – Let the water cook off and fluff the quinoa. – Cook ground sausage in a pan until golden brown. – Add some onions, peppers, and garlic to the meat and season with salt and pepper. – Add some diced tomatoes and cook until the liquid cooks off. – Mix the sausage and quinoa with some lime juice and cilantro. – Cut open your peppers, clearing out the seeds and spoon in your meat mixture. – Add some grated cheese to the top and bake in the oven until peppers begin to soften and cheese is melted.
5. Quinoa pilaf
– Sauté some onion and diced carrots until crisp and tender. – Add garlic and cook a little longer. – Then add quinoa and some chicken broth and salt to the vegetable mixture. – Stir and allow to boil. – Reduce the heat and simmer for about 10-15 minutes until the liquid is mostly cooked off. Stir occasionally so it doesn't stick. – Fluff with a fork and serve as a side dish. It goes great with steak.
Featured Product:
It takes less time to fix a pot of quinoa than it does a pot of rice. And, it can be prepared in a rice cooker for an even easier dinner preparation. The
Quinoa Cookbook
provides recipes for adding this high quality protein to breakfast, lunch and dinner as well as desserts. Its mild nutty flavor has mainstreamed of late and we can all benefit from that.
The Quinoa Cookbook: Nutrition Facts, Cooking Tips, and 116 Superfood Recipes for a Healthy Diet
Five Ways to Cook Squash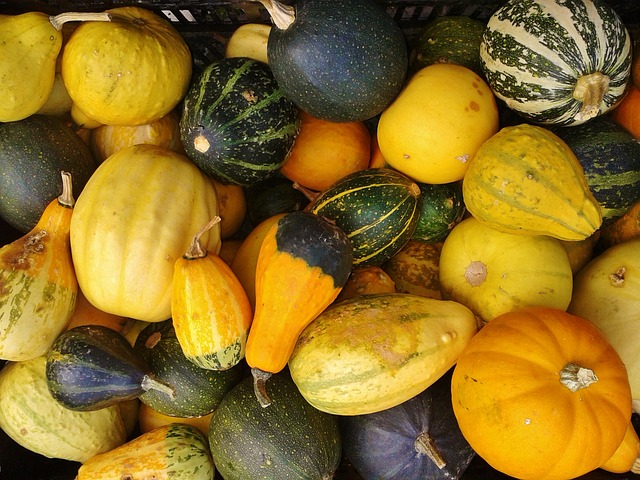 Squash is one of the most readily available and also versatile vegetables, so knowing how to cook with it will open up many doors. And squash is filled with many antioxidants and vitamins, making it a vegetable that not only will fill you up, but is also healthy for you. And since it's so readily available it also makes it an inexpensive, as well as tasty, vegetable to cook with. So try out these five ideas for cooking with squash.
Five Ways to Cook with Squash
1. Roasted squash
Wash your squash. – You can either peel your squash or leave the skin on and scoop out the insides when it's done. – Season with some salt and pepper and sprinkle some healthy oil over the squash spread evenly on a baking sheet. – Bake in a 400 degree oven until done.
*You can test its doneness by looking at the flesh of the squash – it should be tender and easy to pierce with a fork. Serve it in pieces, or mash or puree it if you would prefer.
2. Sautéed squash
This is easy to make and tastes great, too. – Slice your squash up into pieces. – Put in a pan with some oil. – Season with a little salt and pepper and cook until it begins to brown and caramelize.
3. Fried squash
– Slice the squash into small slices. – Season with some salt and pepper. – Dredge the squash slices in an egg bath and then coat with some flour of your choice or cornmeal. – Place into hot oil and cook until browned. Eat alone or dipped in some ranch dressing.
4. Grilled squash
This is another very tasty way to enjoy your squash, and it's also simple to prepare. Have it with some grilled chicken. – Cut your squash into halves and drizzle some olive oil over them. – Season with some salt and pepper and then place on a baking sheet on the grill. – Grill six minutes on each side and that's it. – Cut it up and serve with whatever main dish you would like.
5. Squash kabobs
Food on a stick always adds some fun! Squash will not disappoint as a kabob. – Cut your squash into cubes and place them on skewers. Add any other vegetables you like with small pieces of meat such as chicken. – Season with salt and pepper and brush with some oil or melted butter. – Place your kabobs on a grill that has been sprayed with cooking spray. – Remove the squash when the outside begins to blacken and the flesh is tender.
Six Ideas for Cooking Cauliflower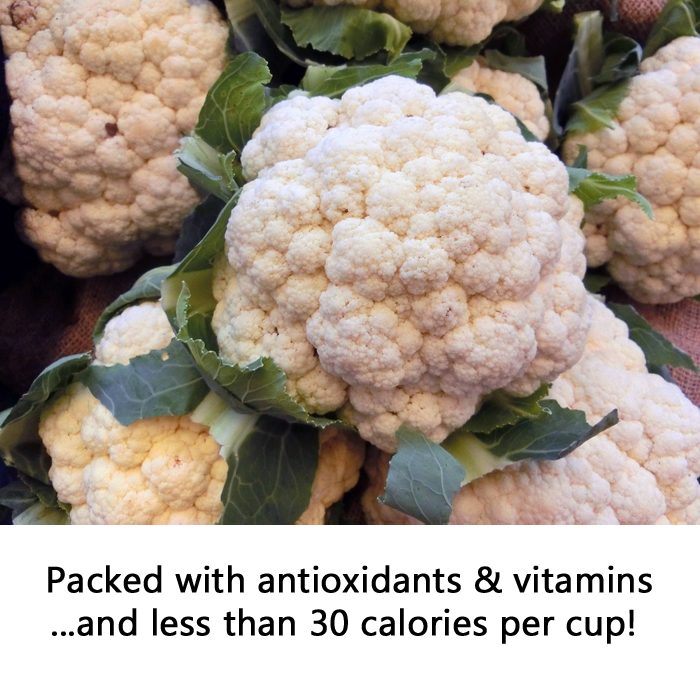 Cauliflower is one of those vegetables that when raw has a mild taste which pairs well with lots of different flavors. And when you start to cook cauliflower, it brings out all sorts of different tastes in this vegetable.  Use it in any recipe where you would normally use potatoes or broccoli for a little change of pace on your typical recipes. Whether you want to use it as part of a salad or to make a cauliflower soup, you really can't go wrong adding this vegetable to a dish. And yet it's not used very often, being overlooked by its green counterpart, broccoli. For a different twist on things, try picking up some cauliflower and using it in different ways.
Six Ideas for Cooking with Cauliflower
1. Steamed cauliflower
– Bring a little bit of water to a boil in a saucepan and add a steamer tray to the pan. – Put the cauliflower florets in and steam for 5-10 minutes (depending on how much cauliflower is in the pan). – Add some sea salt, butter or cheese on top.
2. Mashed cauliflower
– Put the entire head of cauliflower in boiling water. – Boil for about 20-25 minutes. – Remove from heat and drain the water. – Add some milk, butter, and salt and pepper to taste and mash with a potato masher.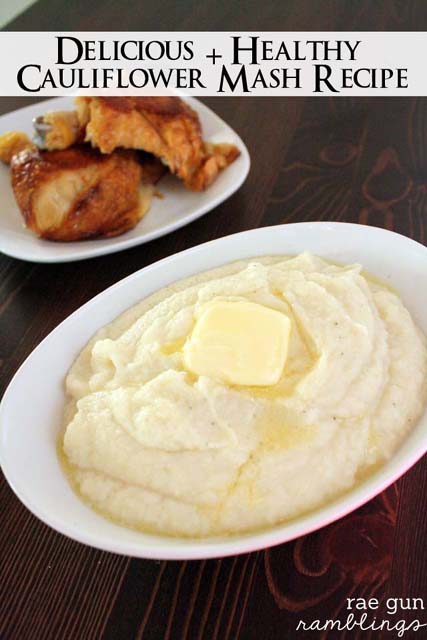 My recipe pick: Healthy & Delicious Cauliflower Mash Recipe
3. Puree cauliflower for the base of soup or dips
– Boil as with the mashed cauliflower. – Remove from heat and drain. – Instead of mashing, put it in the food processor and puree.
> For a creamy cauliflower soup:
– Add your cauliflower puree to some sautéed onion and garlic. – Stir in some pepper and nutmeg. – Add a bit of coconut milk and cook over medium heat until it begins to simmer. – Make a butter and parsley swirl.
*Just melt some butter and stir in the parsley.
– Top your soup with a swirl of this parsley mixture.
> For a dip:
– Purée your cauliflower with a little Greek yogurt and lemon juice. – Then season with some sea salt. Store in the fridge for up to five days. Let those flavors really meld together.
4. Sautéed cauliflower
– Cut just the florets from the cauliflower head. – Add it to a sauté pan with some hot oil and garlic. – Cook until golden brown and soft. Before serving you can add a little lemon juice or thyme for added flavor.
5. Roasted cauliflower florets
– Toss your cauliflower florets with some olive oil, salt, and pepper. – Put in a baking dish and place in a 400 degree oven for about 20 minutes or until golden brown.
6. Make a salad with cauliflower florets
– Stir-fry them a little and toss with a little lemon vinaigrette. – Then add it to some spinach leaves with a little smoked halibut.
Six Ways to Cook Eggplant

Eggplant is a hearty, tasty vegetable which is often overlooked. Its size is often intimidating and many times people just don't know how to best tackle preparing it, let alone cooking it. But it's really a vegetable which should be used more often.
Six Ideas for Cooking Eggplant
1. Grill it
This is probably one of the simplest ways to prepare eggplant. – Cut it lengthwise, leaving the skin on as this is filled with lots of vital nutrients. – Brush it with oil and put it on the grill. – Grill it until it is golden brown and tender.
2. Make an eggplant dip
– Bake a whole eggplant in the oven for about 45 minutes or until the eggplant is tender and collapses on the baking sheet. – Remove the peel and put the flesh of the eggplant into a food processor and pulse. – Add parsley, Greek yogurt, tahini paste, lemon juice, garlic, and some cumin. This makes a great dip for a grilled pita bread.
3. Eggplant Parmesan
– Slice the eggplant, leaving the skin on. – Dredge it in egg and then breadcrumbs. – Place the eggplant in a frying pan with hot oil. – Brown on both sides and remove to a baking sheet. – Layer pieces with sauce and cheese about five slices high. – Bake until cheese is melted and bubbling.
My recipe pick: Baked-Eggplant Parmesan
4. Eggplant pizza
Use the eggplant in place of pizza crust in this tasty dish. – Cut the eggplant into discs and place in a single layer on a baking sheet. – Rub with olive oil and season with a little salt and pepper. – Bake for about 20 minutes and then flip. – Cover eggplant in a layer of tomato paste and sliced tomatoes. – Top with garlic and Italian seasoning and cheese. Add any other toppings you would like. – Place back in the oven and bake until cheese melts.
My recipe pick:
Recipe for Julia Child's Eggplant Pizzas (Low-Carb, Gluten-Free)
5. Eggplant fries
Who doesn't love French fries? But with all of that fat and carbs it's not all that healthy for you. Well, try them with eggplant. – Cut the ends off the eggplant and then cut the eggplant into quarters. – Cut the quarters into quarter inch-thick slices. – Cut those slices into strips the size of French fries.
My recipe pick:
Low Carb & Gluten Free Eggplant "Fries"
6. Eggplant stir fry
– Wash, peel and cut the eggplant into bite-sized pieces. – Lay out on paper towels, sprinkle with some salt and let sit for 10 minutes letting the moisture come out. – Turn them over and repeat. – Place the eggplant in a pan heated with a very small amount of oil (around 1 tablespoon). – Make sure the oil is very hot, then add the eggplant and whatever other vegetables you would like such as onions, snow peas, etc. Season with salt and pepper and stir constantly so it doesn't stick to the pan. The vegetables should be lightly browned.
 YOUR TURN!

Share

your

favorite way to fix avocados, quinoa, squash, cauliflower, or eggplant… you can link to a recipe on your own blog, if you like.

]]>

Please help share my content:

<![CDATA[