A TRIBUTE TO ALEX – Guest Post and Poem by Kathy McCullough, Pastor's Wife, Ark City, KS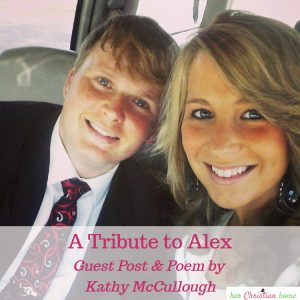 As a guest writer for this blog, I wanted to pay tribute to our son-in-law, Alex.  Alex had ALS and went to Heaven over 7 months ago. Before I go on, I am going to share this verse:  Psalm 78:19 kjv, "Yea, they spake against God, they said, Can God furnish a table in the wilderness."
Alex married our middle daughter and after they were married, he became a very zealous, faithful young man who loved serving the Lord.  He even was planning on going to Bible College.
About two months into married life, Alex started suffering with severe muscle debilitation and within the year was diagnosed with ALS.  To say the least, this was devastating news, and this young couple started on a long, hard journey.
As this disease progressed, Alex lost the ability to use his hands ( he had to be fed, dressed etc), legs and he could barely talk.  God did bless them with two children, but he could not play or hold them.  Some people who knew Alex before he served the Lord said, "He started serving God and now look what happened to him."
My husband would rough and tumble with his son, our grandson, and Alex could only watch. Was this heartbreaking? Yes, it certainly was! We knew that he wanted to be able to play with his own children like that. But, even in this extremely hard trial, Alex never complained.  Wait a minute, did you hear that–HE NEVER COMPLAINED!
In fact, he told family and friends that even though he had ALS, these were the happiest days of his life.  He loved his wife, his children and being a dedicated Christian.  His physical strength had become weak but his spiritual strength had become strong.
After five years, two of which Alex was a complete invalid, God took Alex to Heaven where he sits with Jesus at the banquet-eating table. This is a much better table than we could ever set.  Can God furnish a table in the wilderness?  Yes, He can!
The following poem I wrote in honor of Alex (written as if he was speaking) for his home going service…
Today is a celebration
Of a beginning, not an end.
This ole body where I did dwell,
Well let's just say now,  ALL IS WELL.
My hands and feet were useless there;
My voice with you, could hardly share.
My constant pain and mangled feet
I have traded for a better seat,
Than the earthly one I sat in there–
Hospice bed and electric wheelchair.
I couldn't use them anymore,
I knew for me that there was more.
I know you'll grieve, that's part of life,
But love me thru my kids and wife.
My days with Christ were by far the best,
Though they were haunted by too much rest!
The constant meds and nurses, too
Are all gone from these eyes of blue
While I sit and learn at Jesus' feet,
Where I hope one day, you, too, will meet.
Now, my body there is just my shell.
Here in Heaven, my soul is well.
I think I'll ask Christ if I can stroll,
Heaven's Highways since I am whole.
I love you my friends and family, too–
Mom, sisters, brothers, to name a few.
I'm so grateful for each day we had.
Your help, encouragement made me glad.
The dash in my life from birth to now
On earth is ended, but now it's a wow!
Hold me in your hearts, 'specially you, my Love,
Till we meet again in Heaven above.