"Jesus said unto him, If thou canst believe, all things are possible to him that believeth. And straightway the father of the child cried out, and said with tears, Lord, I believe; help thou mine unbelief."

~ Mark 9:23,24 kjv
In Mark 9, we read a story about a father who brings his son before Jesus,
hoping
that Jesus could help him.  His son had been afflicted with demon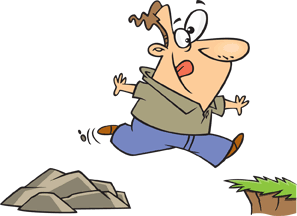 possession. This tormenting situation caused his son to be self-inflicted by wallowing on the ground in degradation, foaming at the mouth, gnashing with his teeth, casting himself into the fire or sometimes water trying to destroy himself. What loving parent wouldn't be
quite disheartened
by such a
traumatic event
in the life of their son or daughter? I'm sure this father had tried
everything
possible to save his son.  He was probably worn out from trying watch over him day and night to keep his son from literally killing himself. When we grow
weary
, we begin to lose
hope
.  Sometimes we begin to be
frustrated
and
impatient
.  When this happens our
faith weakens
.  We lose sight of what's possible because we feel so hopeless. I believe this man brought his son to Jesus because he had heard about all that Jesus could do.  In faith, he brought his son there, hoping that Jesus could do something for him.  Perhaps it was one last desperate attempt to help his son before he gave up all hope. This man believed Jesus could help…but he was so
weary
and feeling
hopeless
.  In Mark 9:22, the man says, "
…but if thou canst do any thing, have compassion on us, and help us.
"  Then shortly he admits to the Lord Jesus, "
I believe, help thou mine unbelief
." Jesus did have compassion on this man and his son.  Jesus did help them, praise God!  Our Lord did help this man in his weak moment of unbelief.  I guarantee it cured his unbelief!!!
Three things you need to do when you're weak and weary…
1. Take just one more leap of faith. 
I believe at times when we're weary we need to take just one more step of faith…just like this man in Mark 9 took one more leap of faith by taking his son to Jesus for help. 
It was this one more step of faith that healed his son
.  Every morning take one more leap of faith; read your Bible and pray.  Ask God for grace for one more day.
2. We  need to admit when we're weak. 
This man admitted to Jesus that he had some unbelief.  He admitted his weakness. God doesn't expect us to be perfect.  He remembers we're but flesh.
3. We need to ask God to help us when we're weak.
  This man asked Jesus to
help
his unbelief…his weakness.  Jesus certainly did have compassion and helped him!
"But he,

being full of compassion

, forgave their iniquity, and destroyed them not: yea, many a time turned he his anger away, and did not stir up all his wrath.

For he remembered that they were but flesh

; a wind that passeth away, and cometh not again."  Psalms 78:38,39
From the Scripture in Psalms we see that God is
full of compassion
and
remembers we're just "flesh"
.  Isn't that such a comfort!?!
Day 19

If you're weary in praying, take

just one more leap of faith

to pray today.  Ask God to help your unbelief…admit your weakness.  Read God's Word more because our faith grows by hearing the Word of God. 

(Romans 10:17)

God bless your day ahead!]]>

<![CDATA[