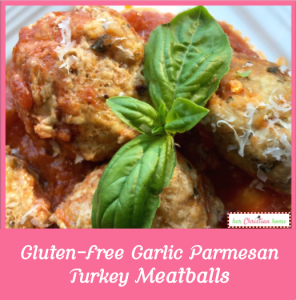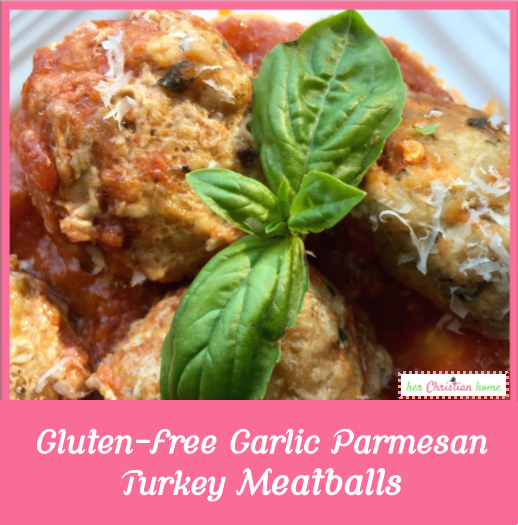 I've loved meatballs since I was a kid… unfortunately, I have to admit that I rarely make them.  Now that I try to be careful of gluten, I have avoided them even more so.
Gluten tends to give me flu-like symptoms if I consume too much of it. A small amount here and there goes well enough, but I do my best to avoid it so that I feel my best.  Thankfully, this recipe will be great if you're avoiding gluten as well.  And of course, you can use "lean beef" if you wish!
These scrumptious meatballs are a real crowd pleaser. The traditional bread crumbs are replaced with a hearty portion of freshly grated Parmesan cheese, while a combination of spices and fresh herbs pack tons of flavor into every bite.
These meatballs freeze well, so make a double or triple batch if time allows. Then, simply pull some out of the freezer, reheat, and serve with spaghetti squash, zucchini noodles, or your favorite gluten-free pasta for a quick and delicious weeknight meal.
Featured Product:
___________________________________________
Gluten-Free Garlic-Parmesan Turkey Meatballs
Recipe Notes
Tip: To help the meatballs hold their round shape, bake them on their own first before adding the tomato sauce.
Ingredients:
2 c. sugar-free tomato sauce*
2 lbs. ground turkey breast
1 large (or 2 small) eggs
1½ c. freshly grated Parmesan cheese
1½ T. fresh oregano leaves
3 T. fresh basil leaves, chopped
3 T. fresh parsley, chopped
3 cloves fresh garlic, finely minced
1 T. onion salt
½ T crushed red pepper flakes
Sea salt and black pepper, to taste
Optional: Additional tomato sauce, Parmesan cheese, and fresh basil for serving. 
Directions:
Preheat oven to 350°F and line a rimmed baking sheet with parchment paper or a Silpat baking mat. Set aside.
Pour tomato sauce into 9x13" glass baking dish and spread in a thin layer to cover the bottom and set aside.
Add ground turkey, eggs, Parmesan cheese, oregano, basil, parsley, garlic, onion salt, and crushed red pepper flakes to a large glass bowl. Season with salt and black pepper, to taste. Thoroughly combine mixture with your hands and divide into 24 equal-sized portions. (For larger meatballs, separate into 18 portions). Add more Parmesan cheese, if necessary, to bind the ingredients.
Gently roll each portion into a ball and place on prepared baking sheet, leaving room between each meatball. Place baking sheet in pre-heated oven and bake for 15-20 minutes. Remove from oven and transfer meatballs to prepared baking dish. Drizzle with additional tomato sauce and Parmesan cheese, if desired.
Place baking dish in oven for approximately 10 minutes, or until sauce and meatballs are heated through. Remove from oven and serve immediately with additional tomato sauce, Parmesan cheese, and fresh basil, if desired.