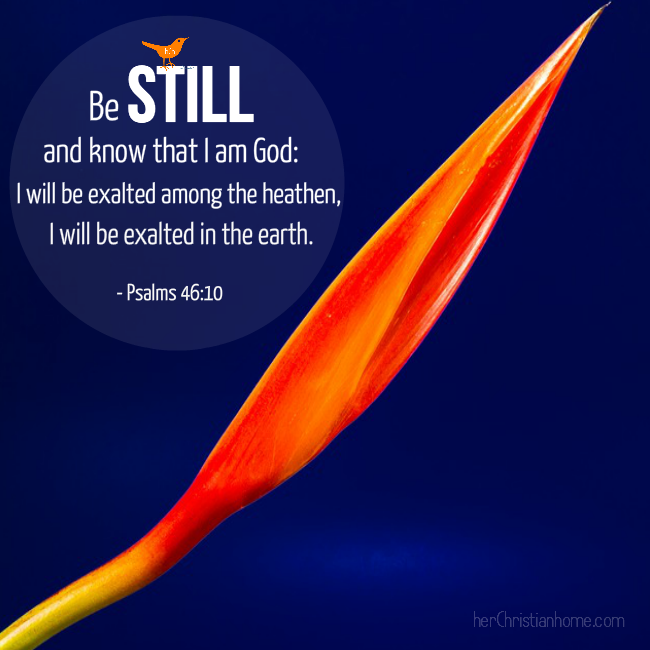 "Be still, and know that I am God: I will be exalted among the heathen, I will be exalted in the earth."

– Psalms 46:10
I'll be the first to admit… it's really hard to sit still. I always have in the back of my mind something that needs to get done.  The mental list is like a gazillion feet long. And once I get my day started, I hate delays and interruptions when I'm in the midst of getting a project done. Oh, I really hate when I mess up and have to start all over. I said all of that to say again… it's really hard to sit still!! As ladies we have so many things that have to be done for our husbands, our children, our home, and our ministries we're involved in, etc. But, the fact is, we make our day harder when we neglect taking time to
"be still"
in order to reconnect with the Lord Jesus… The
ONE
who really wants to help us through our day.
How can we find time to be still?
First,
for most of us ladies, that probably means getting up a bit earlier in the morning before our children do so that we can have some quiet time to read our Bible and pray.  It's hard to do that later once we're busy with our daily tasks.
*When we read our Bible, God speaks to us through His Word. When we pray, we speak to God.  With this manner of back and forth communication, we begin to know the Lord Jesus more.
Secondly,
we have to plan this time as one of our priorities.  We often have a huge "to do" list, but make sure that God is at the top of that list!
*Don't we always seem to get done the things that are MOST important to us?
Thirdly,
eliminate the distractions.  With modern technology, it's hard to sit still and be quiet.  We have to avoid our phones and computers, or whatever else may be a distraction so that we can be still and communicate with our Heavenly Father.
Reaping the benefits of being still:
Casting all your care upon him; for he careth for you.

– I Peter 5:7

And the peace of God, which passeth all understanding, shall keep your hearts and minds through Christ Jesus. 

– Philippians

4:7

Come unto me, all ye that labour and are heavy laden, and I will give you rest.

– Matthew 11:28
God bless your day ahead!

]]>

<![CDATA[