In today's society, we have a hard time keeping our minds focused on things of God.  We have so many things on our "to do" list, events to attend, our gadgets and social networks that constantly preoccupy our mind, so it can be really hard to keep our mind on Christ.
I often get overwhelmed and anxious about matters that shouldn't really overtake me with worry.  Again, I have to remind myself to keep my eyes on God above and keep trusting Him.  We're flesh; and we're even weaker when we haven't replenished our nourishment from God's Word which feeds us…and builds our faith.  ("So then faith cometh by hearing, and hearing by the word of God." – Romans 10:17)
Take time to find a quiet spot each day to connect with your Heavenly Father.  Psalm 46:10 say,  "Be still, and know that I am God: I will be exalted among the heathen, I will be exalted in the earth."   Also, chat constantly with Jesus throughout the day to keep your communication going…just like you do with your friends via texting and Facebook. ("Pray without ceasing." I Thessalonians 5:17)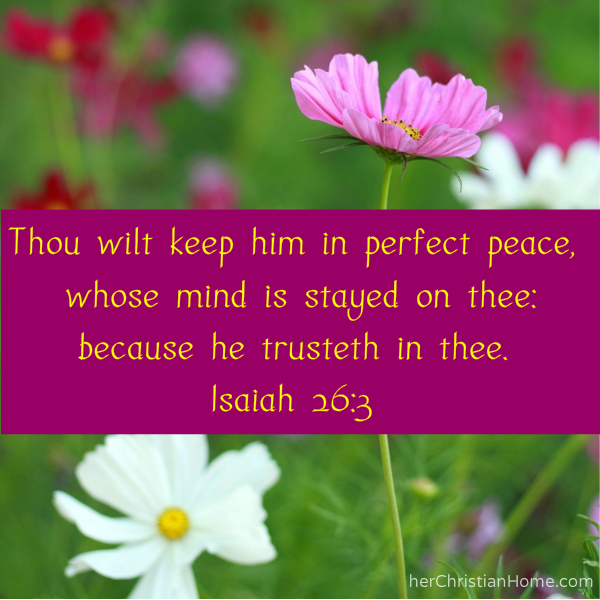 "Thou wilt keep him in perfect peace, whose mind is stayed on thee:  because he trusteth in thee."

– Isaiah 26:3

Isaiah had the perfect antidote to avoid anxiety and stress — which was to keep your mind on God.  Having such a close, constant connection with Him builds a trust that can't be diminished with all the trials that surround you.