"Whose adorning let it not be that outward adorning of plaiting the hair, and of wearing of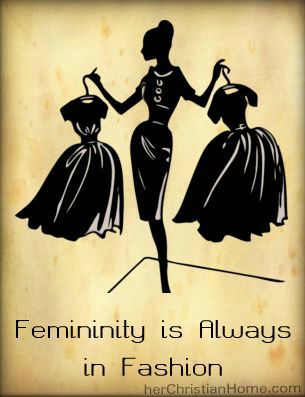 gold, or of putting on of apparel; But let it be the hidden man of the heart, in that which is not corruptible, even the ornament of a meek and quiet spirit, which is in the sight of God of great price." (I Peter 3:3,4 KJV)
This is the first time I'm covering the topic of fashion here at HCH. In writing on this subject, I'm not necessarily promoting "keeping up with fashion".  Some "stuff" out there these days just isn't modest enough.  For me, modesty must come first…
I'm not a real "fashion" pro (my style is simplicity). Although I don't really make a big deal over brand names, I do have a few favorite brands that I love because they have some modest clothes and produce top quality clothing.
But, I'm not all drab when it comes to fashion either…I do love and admire colors and feminine style. I don't think as Christian ladies we should get too caught up in staying up with all the latest trends.  On the other hand, there's nothing wrong with enjoying some pretty clothes and making ourselves pretty for our husbands. In my lifetime, I've had quite a few friends who seem to know just what to put together to complete a lovely outfit…and always seem to walk out the door in style.
I've gathered a few summer fashion tips and trends to share with you. You can certainly share your own tips in the comment section below.
Dresses and skirts, heels and lace – it's all coming together for a colorful and at times ethereal look. Here are some fashion trends for women's dressy clothes this year.
Dressing Up:
Florals
Floral prints come and go, and change in style – remember the cabbage roses of the 80s? Florals are back, but the cabbage roses are nowhere to be seen. 2012's florals are all about movement. Florals are more systematic and less random this year, with almost symmetrical designs. Floral prints are showing up on dresses and skirts, and are particularly prominent on long, flowing styles.
Prints
Not to be confused with florals, prints full of whimsy are turning up on skirts and dresses and tops this year. Feathers, birds, fruit, trees, animals – it seems you'll find any of these on dressy clothes in 2012.
Mint Green
It's interesting how mint green has made such a misty splash this year. It started in spring and seems to have followed us into summer. It ranges in hue from a gray-ish sage to a true-blue mint, but you'll see lots of it. Smart skirts, handbags, and simple tops are going green.
Orange
And then there's orange. You'll find this bold color on dressy sandals and even formal dresses. It pops out of florals and prints, and also in solids.
Dress Suits
It seems women's dress suits never go out of style. In summer 2012, the look is definitely toward pastels and light fabrics. Many designers are including flowing, dramatic wraps to go with their dressy fashions this year.
Lace
Lace is popping up on shoes, handbags, skirts and tops in this year's dressy clothes. High heels with lace coverings are making an appearance, and so are lace-trimmed tops and skirts.
Crochet
Crochet is definitely making a comeback! Crochet jackets, shawls, and vests are making an appearance – an old-fashioned art transformed into a modern fashion statement.
Stripes
This year's stripes are mostly bi-color – meaning black and white, mint green and cream, orange and blue, and so forth. Not a lot of multi-colored stripes are around, but all sizes of stripes from bold to subtle are making bold and fashionable statements on women's dressy clothes this year.
Heels
Heels are in this year, especially wedge heels. Kitten heels are also purported to be coming back in summer 2012. For dressing up, you can find all sorts of high heels with chunky toes, and also bow sandals. Both look great with summer dresses and skirts.
Flowing
Long, flowing skirts are making an appearance (Yay!). Natural hemlines swing on mid-calf dresses, and longer skirts and dresses have an almost ethereal look with light fabrics, pleats, wraps, and drapes.
Slipping on Sandals: 
Summertime is officially sandal season! And 2012 has some good ones to offer. Here are some of the trends this year with sandals…
Flats
There are a few kinds of flat sandals trending this year, which is good news for those who can't or don't want to wear heels.
1. Gladiators
There's no doubt about it – the gladiator sandal is in this summer. Gladiators cover up ankles and calves that may not be your best features. However, the general consensus is that gladiator sandals don't really do well on women who are short or who have thick legs.
Gladiators come in roughly three heights – ankle, mid-calf and knee lengths. Choose a length that works for your body type and the shape of your legs. For instance, thin, minimal lacing on ankle-height gladiators may work better for those with thicker legs, whereas thinner legs may do better with thicker or numerous laces that are knee-height.
2. Flip Flops
Flip flops are not just to get you over the hot sand into the water – they come in all kinds of colors now, and you can wear them with lots of stuff. (I have to say; however, that I don't really care for flip flops at church or for dressy occasions. That's just my own opinion though.).
3. Bows
Sandals with bows are in this year. They are often flat or have a small heel, but what characterizes them is the wide bow that goes across your toes. Bow sandals are usually minimal and strappy, with the bow being the only strap over the foot. Often, there is a thin buckled strap around the ankle.
Heels
There are some seriously high heels out there this year. The strappy look is in, and high heels with slender straps around the ankles. But don't despair if you can't wear super-high heels (like me) – wedge heels are back, and they are often a lot more comfortable and easier to walk in. *Wedges are usually cork, and are worn with casual clothes.
Colors
The days of simple brown and black and beige sandals are behind us! In 2012, it's all about the color – the pastels of spring are carrying over into the summer as baby blue, mint green, butter yellow, and pink find their way onto sandals. Bright colors are trendy, too, particularly orange and aqua-blue.
Colorful details are popping up (and out) on sandals this year, too. Rivets, sequins, buckles, and other "bling" are glittering on sandals in 2012. Even braided sandals are coming back, and combined with the colors, bows and sparkles, it looks like an interesting year for sandals!
Trendy Summer Hairstyles 2012
This summer, there are lots of choices in the realm of hairstyles. Unlike eras of the past, there really is not one hairstyle that's trendy. This is good news, because hardly any two people have the same hair!
A style that's effortless for one hair type may involve hours of frustration and numerous accoutrements for another. So read on, and choose one that works for your hair type and style. You'll still be on top of the summer hairstyle trends for 2012.
Bobs
The bob is back, and it comes in various forms in 2012. It's a nice short do for summer, and it doesn't have to be the classic wavy bob. Tousled, shaggy, and smooth, straight bobs are trendy this summer. Break out the bobby pins – you'll find out how they got their name!
Long and Wavy
Loose and flowing, the long and wavy look (and medium-length wavy, too) is in. Parted in the middle or on the side, wearing hair down with waves is a good way to make use of summer's humidity. If your hair is thin, use some mousse to give it body and to control frizz; thicker hair can handle the weight of gel to keep the frizz in check. Both hair types can use some sort of anti-frizz product.
Tousled
The tousled look has found its way into straight, curly, and wavy hair styles. The tousled bob is a new look for 2012, lending a post-modern look to the old classic. Straight hair can be teased and coaxed into a tousled look with product and some pins, and wavy and curly hair can do the tousled look up or down.
Shaggy Ups and Downs
Shaggy dos, whether worn up or down, are trendy in 2012. Hair can be cut in a certain style of layers to achieve the shaggy look, which seems to do better with straight hair (unlike the tousled look, which goes for both). Up-dos may be fringed with shaggy bangs or wisps on the sides and coming off the top.
Curly – Long and Short
Curly hair is always going to be curly hair, and in the summer, the humidity can really bring those curls out. Go with it, not against it! Short and long styles abound for curly hair. Tousled, short dos can really bring out bounce and curl, and long curls can be worn simply down with the hair parted on the side, or product can be used to get some lift around the forehead and face.
 Beauty Tips for Summer
It can be hard to feel beautiful when you're dripping sweat under a head of frizzy hair! Here are some beauty tips for summer so help you keep a glowing, vibrant look despite the heat.
Hydration
It's pretty amazing how much thirstier you are in the summer than in the winter, and there's a reason for that. You're losing a lot of water in the form of sweat, and daylight hours are long, meaning more exposure to heat and the consequent sweat.
Keeping yourself hydrated in important. It helps prevent heat stroke, dry skin, and other health issues. Healthy is beautiful! So keep water handy wherever you are, and take it with you whenever you leave the house. You can also eat lots of hydrating fruits like peaches, plums, and melons. These are good for you, too, supplying lots of healthful nutrients.
Go Light on the Make-Up
Thick, opaque make-up can run and streak in summer, and frankly, it just looks stifling in the heat! Dark, thick eye make-up may streak and run when you sweat, too. Soft colors and light coverage are key. If you have blemishes, go with a concealer and a light, low-pigment base with sunscreen.
Avoid Sun Damage
In the old days, a tan was considered "healthy." But now we know that it's anything but! Tanning is sun damage, plain and simple, and the possibility of developing skin cancer is raised exponentially with each sunburn. Bad sunburns also peel and even blister, which doesn't help your make-up efforts or your facial skin's health and beauty. So wear light sunscreen daily – in fact, you can use a lightly pigmented sunscreen daily in lieu of base make-up.
Up-Dos
Summer is a great time to experiment with up-dos. Your hair can look frizzy or stringy in the humid, sweaty days of summer. Wearing your hair up also looks and feels cooler. Light clips and pins can keep hair up without a lot of accoutrements.
Speaking of hair, those with curly hair can avoid frizz by using gel (for thick hair) or mousse (for thin hair).
Long and Flowy
Long skirts and light, flowy shirts can be quite flattering and still allow for ample air circulation. Cotton blouses that are light and roomy can allow for air circulation as well.
Keeping cool in the car 
For traveling in your car during the hot part of summer, keep a mist bottle on hand.  A light mist over your face and arms can really help you stay cool.  For me, sipping on a bottle of ice water — and keeping it nearby at all times makes a real difference in dealing with the heat.
Enjoy your summer!  It seems to be going by quickly!