LOVE
fast projects.
And, I really like the art of "creating" something new, but HATE tedious projects that take more than a couple of hours to do.
This project literally took around 15 min.  ***Perfect for my attention span.  Tee hee!
I grabbed this (self-standing) wooden frame with a nice unique shape at a thrift store yesterday.  As for greeting cards, I often pick those up in  bundled deals to keep on hand.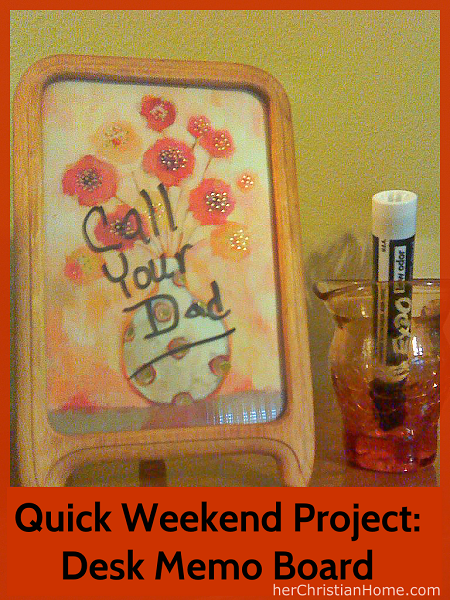 *Pin it here:  http://www.pinterest.com/pin/138204282289940222/
What you need:
– A self-standing photo frame (small size for convenience that will fit well on your desk or dresser)
– A greeting card (pick a color that matches your decor and size of your photo frame).
NOTE: If your photo frame is larger, you can use wrapping paper, scrapbook paper, wallpaper, etc.)
– Scissors
– Pen or pencil for tracing
– A dry erase marker
Quick instructions:
Lay the glass piece on your paper design; trace around.  Cut out the correct sized piece for your frame.  Insert and seal the frame closed.
Clean your frame using a glass cleaner to shine up the glass (if you've purchased this from a garage sale or thrift store).
Ta-Da!
You're done and now have a small handy memo board ready to use….which also adds to your decor…and much more pleasing to look at than those ugly mini whiteboards.

I