On the way to church I saw a HUGE, American flag waving in the wind.  It was so beautiful and grand!
I prayed for America right away….and decided right then in there….every time I see our USA flag I'm going to pray for America!
Prayer changes things!
Would you launch that mission with me?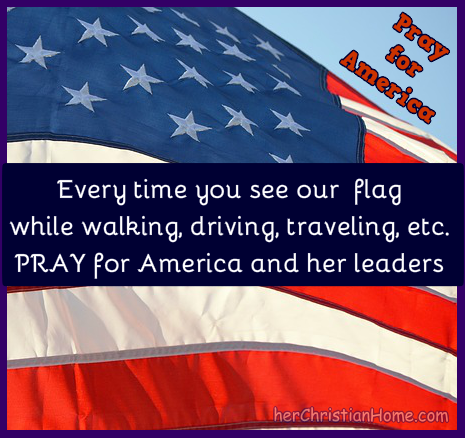 *Pin on Pinterest:  http://www.pinterest.com/pin/138204282290014924/
Ask your children to get involved.  Ask them to remind your family to say a quick prayer for America every time they see a flag.
Pray for our leaders, too.  Pray that God grants them wisdom in leading our country.  Pray that they will humble and yield themselves to God.
Pray for our continued religious freedom.  Pray that our country will humbles themselves before God and turn from their wicked ways.
"If my people, which are called by my name, shall humble themselves, and pray, and seek my face, and turn from their wicked ways; then will I hear from heaven, and will forgive their sin, and will heal their land."

 

  ~ II Chronicles 7:14
________________________________________________________________
PLEASE Help Me Share this Post!
(Share buttons are at the top of this post.)
We're having a great Sunday here today.  The weather is perfect for a July summer day.