I've currently been reading through the book of Nehemiah. Although this is certainly no thorough Bible study on the book, I do have SIX simple Bible truths to share with you from this book of the Bible…
1. It does not matter who you are, God can use YOU.
Nehemiah was not a priest, nor a prophet. He was a simple layman, the Persian king's cup-bearer, who became burdened by the affliction of the Jews, the broken down wall and burned gates of Jerusalem.
"And it came to pass, when I heard these words, that I sat down and wept, and mourned certain days, and fasted, and prayed before the God of heaven," – Nehemiah 1:4 kjv
God used this burden to inspire Nehemiah to become a leader to fulfill His purpose.
Pray about the burdens that God has laid on your heart. He can use YOU! It may not necessarily be to take on a leadership role, but to be actively involved in an area that needs workers and help. (Nehemiah couldn't have rebuilt Jerusalem's wall by himself!)
2. We ought to pray about EVERYTHING!
Thankfully, the king noticed the downcast spirit in Nehemiah's demeanor. He sought to help Nehemiah with his burden.
"Then the king said unto me, For what dost thou make request? So I prayed to the God of heaven." – Nehemiah 2:4 kjv
I love that God's Word shares this little detail. Before jumping in and making a request, Nehemiah prayed about it.
God uses others to help fulfill His purpose… the king was able to take a role in this as well! And so, Nehemiah asks to be sent to Judah to rebuild the wall and gate of Jerusalem. (Nehemiah 2:5 kjv)
3. Once we've determined God's will for us, we need to keep the task before us, despite the criticism and conflict.
Nehemiah faced a LOT of conflict. I love reading of his leadership and determination as he moves forward with his goal.
"But when Sanballat the Horonite, and Tobiah the servant, the Ammonite, and Geshem the Arabian, heard it, they laughed us to scorn, and despised us, and said, What is this thing that ye do? will ye rebel against the king?" – Nehemiah 2:19 kjv
Don't let other people's criticism keep you from serving God!
4. With all the frustrations, keep in the forefront of your mind that God is still in charge!
Nehemiah was able to be a strong leader because he put God publicly on the line to complete His will.
"Then answered I them, and said unto them, The God of heaven, he will prosper us; therefore we his servants will arise and build: but ye have no portion, nor right, nor memorial, in Jerusalem." – Nehemiah 2:20 kjv
5. Have a mind to work
You've probably heard the saying, "Plan your work and work your plan." Well, it takes good hard labor to work your plan!
We know that we're not all in the leadership role — and leaders need followers who are willing to work. (As I said earlier, Nehemiah couldn't have rebuilt Jerusalem's wall alone!)
"So built we the wall; and all the wall was joined together unto the half thereof: for the people had a mind to work." – Nehemiah 4:6 kjv
Perhaps you're not in a position as a leader, but can you work hard for a leader who has a project he wants to accomplish for God?
6. Man's perverseness does not stop the mercies of God.
God's mercy reaches ALL of us. Aren't you so grateful for His generous mercy in your own life? I know I'm extremely grateful because I've had my own fleshly, sinful battles I try to conquer with God's grace.
But, sometimes I also wonder why God doesn't cast down arrows of fire and instantly destroy all the wicked. Do you ever wonder why they get away with so much? When I read Nehemiah 9:31, I was reminded of God's mercy to ALL of us.
"Nevertheless for thy great mercies' sake thou didst not utterly consume them, nor forsake them; for thou art a gracious and merciful God." – Nehemiah 9:31 kjv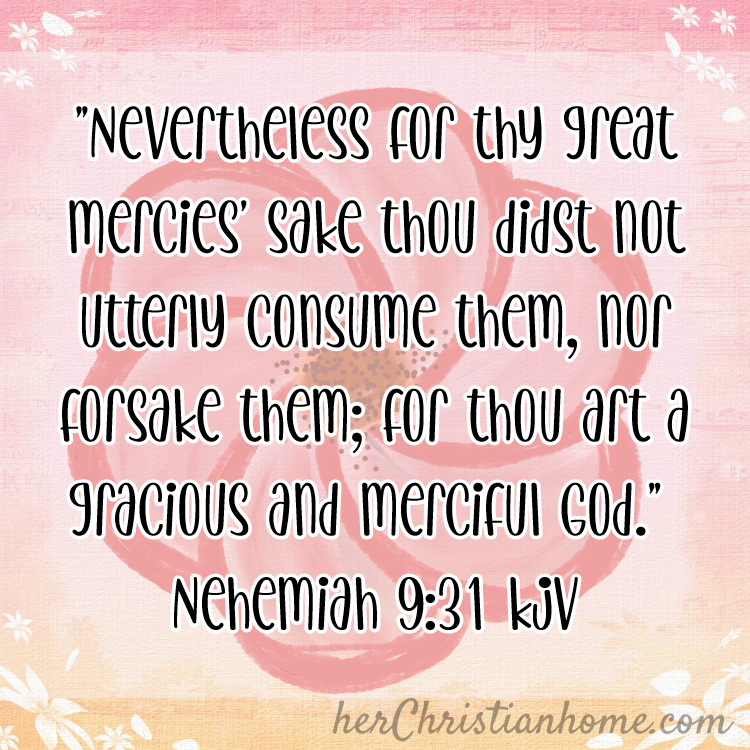 Well, I hope one or all of these Bible truths have inspired you today to continue on with a steady journey in your daily Christian walk.
Continue on in the faith,
Rhonda White