Doesn't it seem like we have over 100 decisions to make each day? We decide what we're going to wear. We decide what we're eating for breakfast. We decide what we should say in responding to a text or perhaps a question from our child. And the decisions go on and on.
Some decisions require a LOT of mental energy because we know they can have great consequences based upon our actions.
One of the greatest blessings in being a child of God is that we have direct access to our Heavenly Father's wisdom.
Here are some basic tips for helping you make important decisions: (It's not an exhaustive list, but ones that should guide you on the right path.)
1. Pray about it.
Most of us agree that prayer is helpful, but sometimes we put it off as a last resort.
Did you realize that Jesus had been all prayed up (praying all night) before choosing his disciples?
Luke 6:12 and13 (KJV) says,
"And it came to pass in those days, that he went out into a mountain to pray, and continued all night in prayer to God."
"And when it was day, he called unto him his disciples: and of them he chose twelve, whom also he named apostles;"
Do pray earnestly about your decisions! Make it the first resort and NOT the last one!
2. Consider what God's Word says about it.
Does your decision line up with God's Word?
I've heard people say that God had led them to make a certain decision, but yet it was contradictory to what the Bible says we should do. Would GOD contradict Himself and tell someone to do something that is opposite of His Word?
Before making an important decision, spend time researching God's Word while you are praying about it.
God's Word will not fail you. It's our Ultimate Guidebook!
Psalms 119:105 (KJV) says, "Thy word is a lamp unto my feet, and a light unto my path."
2nd Timothy 3:16 and 17 (KJV) says, "All scripture is given by inspiration of God, and is profitable for doctrine, for reproof, for correction, for instruction in righteousness: That the man of God may be perfect, throughly furnished unto all good works."
3. Seek godly counsel
There are times where decisions are extremely difficult to make, even when you are sincerely praying and seeking God's will. At these times, consult your pastor and the counsel from those who are living godly lives.
Here are some Bible verses that encourage you and me to seek good counseling:
"Where no counsel is, the people fall: but in the multitude of counsellors there is safety." – Proverbs 11:14 (KJV)
"The way of a fool is right in his own eyes: but he that hearkeneth unto counsel is wise." – Proverbs 12:15 (KJV)
"Hear counsel, and receive instruction, that thou mayest be wise in thy latter end." – Proverbs 19:20 (KJV)
"For by wise counsel thou shalt make thy war: and in multitude of counsellors there is safety." – Proverbs 24:6 (KJV)
4. Ask More Wisdom from God
As I said earlier, we are so blessed as children of God to have direct access to God's great wisdom.
Here are three Bible verses that show us God is willing and wanting to give us wisdom and direct our paths:
"In all thy ways acknowledge him, and he shall direct thy paths." – Proverbs 3:5 (KJV)
"For I will give you a mouth and wisdom, which all your adversaries shall not be able to gainsay nor resist." – Luke 21:15 (KJV)
"If any of you lack wisdom, let him ask of God, that giveth to all men liberally, and upbraideth not; and it shall be given him." – James 1:5 (KJV)
5. Listen and Follow Godly Instruction
Once you've been offered good advice and wisdom (from God Himself and godly counseling) make sure you follow through.
Proverbs 4:13 (KJV) says, "Take fast hold of instruction; let her not go: keep her; for she is thy life."
Jeremiah 7:24 (KJV) says, "But they hearkened not, nor inclined their ear, but walked in the counsels and in the imagination of their evil heart, and went backward, and not forward."
Our own hearts can lead us astray (see Jeremiah 17:9). Our stubbornness and desire to do our own thing will definitely lead us backward and not forward.
6. Fear the Lord
Proverbs 1:7 (KJV) says, "The fear of the LORD is the beginning of knowledge: but fools despise wisdom and instruction."
Although it might seem odd to add this tip in making better decisions, the fact is having a godly fear of the Lord is the start of having more wisdom and knowledge from GOD. And I surely do not want to be a fool, do you?!
Fearing the LORD will encourage us to heed to wisdom and godly counseling. It will put the fear of undesirable consequences in the front of our minds so that we take extra caution and care in our decisions. Also remember, our decisions often affect those around us and not just ourselves.
7. Make sure your motives are in the right place.
I Corinthians 10:31 (KJV) says, "Whether therefore ye eat, or drink, or whatsoever ye do, do all to the glory of God."
Sometimes decisions can be influenced by others, perhaps based on the wants of our child or someone in our work environment, etc.
Our decisions might also have hidden motives, being selfish ones.
The BEST decisions will be the ones when we're looking conclusively at pleasing God and what will bring the most glory to Him.
Today, if you're facing making an important decision, please consider these seven tips. Bookmark them or write them down in your journal.
Whether you have a BIG decision or just a SMALL one, do include God in ALL of them!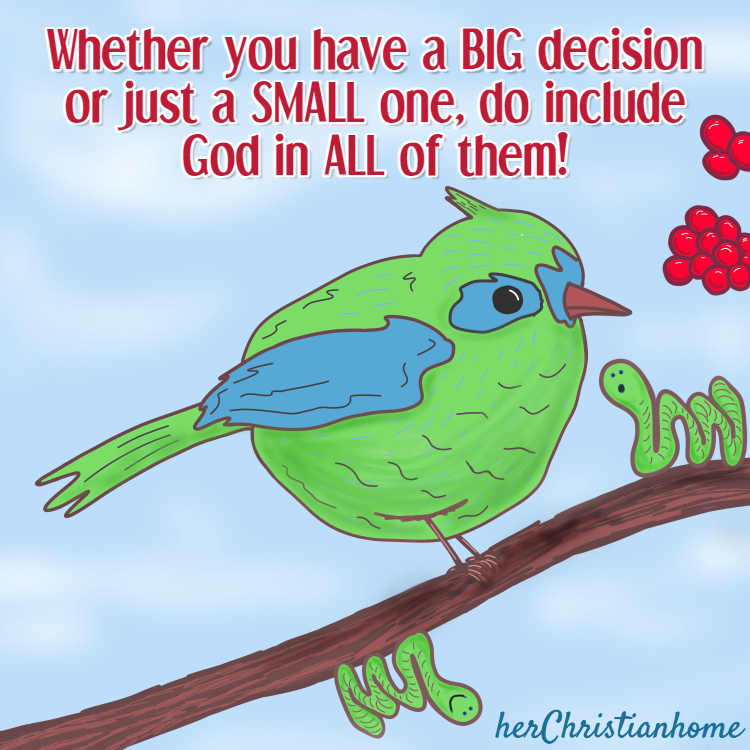 Keep walking in faith,
by Rhonda White