5 Minute Garlic Corn
This is a
SUPER SIMPLE
and
SUPER FAST
recipe that I threw together one day…and my family loved it so much that it is now the
ONLY
way that I make corn. Do use the f
rozen corn
— as canned corn just will not do this recipe any justice, in my own opinion.  I do substitute olive oil in place of the butter from time to time.  If you want to use olive oil instead of butter, wait until you have turned off the heat and then add a little oil and mix.   Extra virgin olive oil is recommended.
Ingredients:
16 oz. of frozen corn
(Set out to thaw earlier to make this a fast-fix.)
1 tsp. garlic powder 1 tsp. dried parsley 2  TB of butter Sprinkle lightly with a little sea salt
Directions:
Cook on low-medium heat. Stir occasionally until hot.
Do
NOT
overcook.  Your veggies will taste so much better, and you'll preserve more nutrients the less you cook them.
*Use a whole bag of 32 oz. frozen corn to feed a crowd and simply double the rest of the ingredients.
*If you must use canned corn, then I recommend adding in 1 scant tsp. of sugar since this will help to enhance the flavor of canned corn.
(I use Stevia.)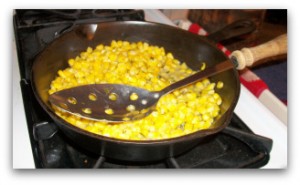 ]]>

<![CDATA[