AND — I LOVE using healthier products.
By creating my own DIY face powder, it's a two-way winner and truthfully only takes me about three minutes to mix a new batch and have it ready to go! I've been using this everyday for about three months now, and I LOVE the smell of the chocolate and cinnamon when putting it on my face.
For the first time, it make take you a little longer mixing your first batch because you'll need to invest extra time in creating the "perfect matching" recipe.  It's worth it, trust me!
WRITE it all down once you got the exact formula that you like.
I use only four ingredients, and this is my perfect formula:
3 TB Arrowroot Starch / Flour (<my amazon referral link) (**Can use simple cornstarch — that's what I've used in the past.)
1 tsp. cinnamon
1 tsp. cocoa
1 tsp. nutmeg
Still too much effort?
You can MAKE this project as simple as TWO ingredients. (Here's a PINTEREST link for two ingredients "cornstarch" and "cocoa")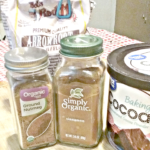 DIY Face Powder
Recipe Notes
Ingredients:

Arrowroot Starch / Flour (or Cornstarch)
Cocoa
Cinnamon (Optional)
Nutmeg (Optional)

Directions:

Start with 3 TB of Arrowroot or Cornstarch in a bowl.  Add one teaspoon at a time of cocoa until you get the desired color. You can keep the color light for a translucent finishing powder or make it darker for powdered makeup coverage.  Add a bit of cinnamon and nutmeg to enhance the coloring.

Important:  Take time to quickly SIFT the ingredients together before placing in your storage container.  It really makes a difference in having a fine powder to apply on your face instead of a lumpy powder.

I LOVE saving money!