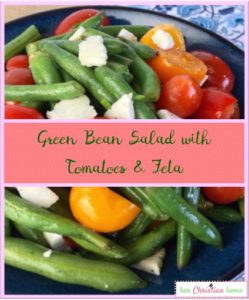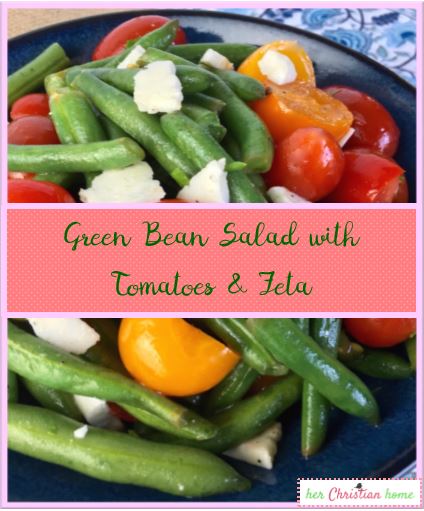 Growing up I had a grandmother who instilled in me a love for green beans.  She would cook a huge pot of green beans with new potatoes and ground beef to serve her guests. I do believe I could practically eat the whole pot if given the chance.
Although my family does not currently hold any enthusiasm for green beans (imore like they "detest" the stuff…lol), it's still a favorite of mine. At least once each summer, I will still cook a huge pot of green beans with ground beef to satisfy my longing, and I'll eat it everyday for lunch until it's gone.
Today, I'm sharing with you a versatile salad recipe that combines garden fresh herbs and veggies with the delicious salty flavor of Feta cheese. As an added bonus, it takes less than 20 minutes to put this recipe together and can be enjoyed either warm or cold.
*Pin it on Pinterest here: https://www.pinterest.com/pin/138204282298204027/
Green Bean Salad with Tomatoes & Feta
Recipe Notes
Ingredients:
1½ lbs. fresh green beans, tips removed and cut in half
1 Pint grape tomatoes, washed and cut in half
1 T. fresh basil leaves, finely chopped
1 T. fresh parsley leaves, finely chopped
3 T. extra virgin olive oil
2 T. AC vinegar (or your favorite choice)
Sea salt and black pepper, to taste
1 c. Feta cheese, crumbled
Directions:
Over high heat, bring a large pot of salted water to a boil. Add green beans and cook until crisp tender, approximately 3-4 minutes. Drain the green beans and then transfer to a large bowl of ice water to prevent further cooking.
Remove green beans from the ice bath and pat dry before adding to a large glass or other non-reactive bowl. Add the tomatoes, basil, parsley, olive oil, and vinegar to the bowl and toss to combine. Season with salt and pepper, to taste. 
Gently fold in crumbled Feta cheese and serve immediately. Salad can also be chilled and served cold.