What do I weigh now that the holidays are over?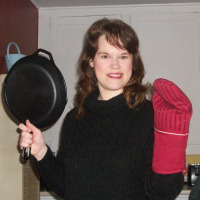 Well, I finally took the courage to step on the scale yesterday morning to see what damage had been done over Thanksgiving, Christmas, my Anniversary and Birthday celebrations.   To my big relief, I weighed 5 lbs
less
than the last time I had climbed on that scale which was before all the holidays.
Did I avoid eating?
Uh…I would like to say that I turned my head and snubbed all those tempting foods, but even a mouse has a hard time resisting stepping onto the mouse trap when there is savory food right before him. I would say that I probably ate less than last Christmas…but next year I'm planning to take a veggie tray to all the family get-togethers so that I have some healthier options for munching. The one thing that I can say that I did was continue to exercise for 10 – 20 minutes every morning. It's a great way to keep your metabolism going.  Some may scoff and say when you're eating all that junk food, it's not going to do any good to exercise…but the fact is, it does indeed do good…and I proved it!
Join me…
Anyway, I'm encouraging you all to join me in exercising each morning for at least
10 minutes
before your day starts.  It's a new year and I know that we can improve our health this year and also get more fit!
I also wanted to share with you…
"Tips for Fitting Exercise into Your Busy Life"
Get up 10 minutes earlier.
It may be hard to commit to getting up an hour early or even 30 minutes early to exercise, but most of us can at least set the alarm 10 minutes earlier to do a few exercise to give our metabolism a jump start in the mornings.  Focus on just one area of your body each morning.  For example, Mondays work on arms, Tuesdays work on legs, Wednesdays the stomach and so forth.
Create a lunch break workout time.
Instead of spending time and money buying food at work, pack a quick lunch such as a healthy sandwich, and take it with you on a walk or run. This way you can get some exercise time in and eat when you get tired. If you usually eat with coworkers, encourage them to pack a lunch and tag along.
Utilize TV time.
If you spend some time in front of the TV, do stretches, sit ups, or even lift weights. If you're really ambitious, you can try aerobics or jogging in place.
Cut back on coffee breaks.
Tomorrow, use a clock or stop watch and add up how much time you spend on coffee breaks. If you cut back on coffee, you could use the extra time to walk around the office or climb the steps of your building. Plus, the endorphins from exercise are considered more energizing than most stimulants.
Use exercise as a social event.
If you spend a lot of time during your week chatting with one of your friends, encourage them to become your workout buddy. Instead of sitting at a diner or a coffee shop to chat, socialize by jogging or going to the gym.
Do some housework.
No, your husband did not pay me to write this in here. Cleaning the kitchen, sweeping, vacuuming, tending to the garden, and even dusting are all great ways to get a work out. Housework lets you stretch, works your muscles, and gets your heart pumping which are essential for staying in shape.
Forget conveniences.
Park  your car a little further away from the store, take the stairs instead of the elevator and when appropriate walk or ride your bike instead of using the car. The most important part of any exercise plan is
determining
to stick with it. Make a plan keep it. Start out slowly and add a little extra exercise time each week.  After a month, you'll have created a good habit and it will soon feel unusual if you neglect to exercise.
Go ahead and post a comment below if you want to join me in exercising each morning for 10 minutes…
]]>

<![CDATA[