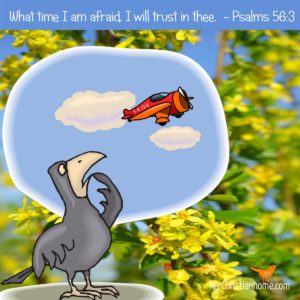 When my husband was in Bible college, we had two sweet little boys. (I have three sons now — one in Bible college.)  My oldest at the time was a wobbly, little toddler, who was just learning to walk. My other sweet one was just a few months old who totally relied on mommy to tote him about everywhere we went.
My husband went to Bible college during the day and afterwards worked from mid-afternoon until 2 a.m. in the morning.  No, we didn't see "daddy" much during that time in our life.  Because we had only one reliable car, I walked to church services on Wednesday evenings and church Soul-Winning on Thursdays. Thankfully, the church was not far at all — just across the street.
One Thursday evening, the snow began to fall heavily and became quite cold and icy.  I peered out the window and began to cringe my face and fret as I reminded myself that I was scheduled to work the nursery for the soul-winning activity that night at our church….and so hiding away from the freezing weather was not an option.
Our church kept its doors open faithfully, and rarely did we have any weather severe enough that would alter such an occasion.  So without much further thought, I prepared to venture out into the cold, snowy weather to fulfill my duty in the nursery.
When I stepped outside of our apartment and realized how terrible the weather had become — and how slippery the main street appeared to be, I began to be quite afraid.  I certainly did not want to fall while walking my babies across that busy street.
Despite circumstances, I headed toward the curb to wait, when suddenly an elderly gentlemen appeared. (Truthfully, it amazes me that I could have passed him without having seen him.)
He seemed quite stable for his elderly age and had such kind eyes.  He offered to help me across the street and assist me by carrying my toddler who was too unstable to walk on his own. I  hesitated. Never having seen this man around our apartments before cautioned my willingness to comply.
My only immediate action was to glance around and try to access the situation.  There a  short distance away,  I saw an elderly woman who gave me a gentle, encouraging smile.  She glanced back at me with approving eyes, and gave me an ever-so-slight nod, as if assuring me that it was okay to trust.  This must be his wife, I pondered. And suddenly I felt a peace overcome me — I felt confident enough to venture across.
My heart had so quickly turned from fearfulness to a moment of calmness. God had sent someone to assist me across the street.  We were safe and sound!
Once I arrived at my destination, it was understandably clear that the weather had become so terrible that our soul-winning activity that night had to be canceled.   A faithful couple from the church drove us back home, and so we once again escaped the fearsome street.
I know we all face times when we feel afraid.  We feel uncertainty.  We feel fretful.
When we feel afraid, we need to pray and ask God to help us. It might seem such a common sense thing to say… but we must take action with our fears.
We must claim God's Word and recall His promises.  Let's remember the verse, Psalm 56:3, that encourages us, "What time I am afraid, I will trust in thee."
There is no difficulty or obstacle too huge that God cannot overcome.  Let's venture forward this week and years to come trusting faithfully in the Lord and hearkening to His Word!
Have you ever felt afraid and God sent peace to your heart?  I'd love to hear from you; comment below to share your thoughts.
What time I am afraid, I will trust in thee. – Psalms 56:3

For He shall give His angels charge over thee, to keep thee in all thy ways.  They shall bear thee up in their hands, lest thou dash thy foot against a stone. -Psalms 91: 11, 12