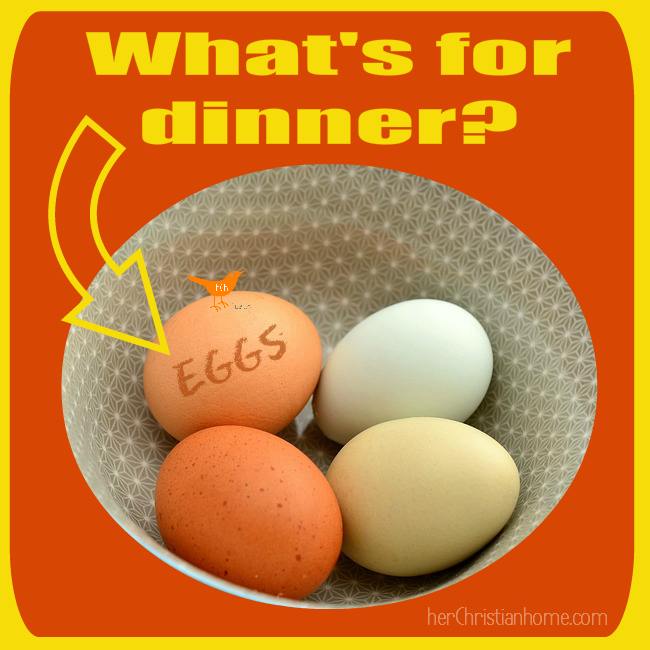 Let's face it… for those of use who like eggs, they can make a great tasty and SATISFYING meal…and they're NOT just for breakfast! Free yourself from limiting them to only mornings. 🙂 Since they're a great source of protein, consider making them whenever you're needing a quick dinner… and particularly if you don't have meat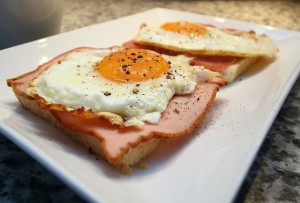 thawed…you can still create a quick, healthy meal. Whenever I need a really fast lunch, I'll simply crack a couple of eggs and fry them up…sometimes I even toss a few spinach leaves on top for the last minute or two to steam them on top of my eggs.
About egg nutrition:
Eggs are extremely high in HBV protein (high biological value). This type of protein is excellent for an energy boost. Eggs also deliver all of the B vitamins, both vitamin A and D, as well as healthy omega-3 fatty acids.
Prepare hard-boiled eggs: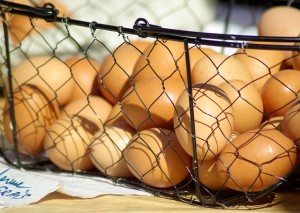 Refrigerated boiled eggs last for about a week if they are kept in their shells. You can cook a dozen eggs at the beginning of the week and keep them on hand for a quick energy boost.
Extra EGG Help Tips
For help on boiling eggs, read this post:
"How to make perfect hard boiled eggs" 
See the super short
VIDEO
on this blog for the
"World's Easiest Way to Peel Eggs"
Also, if you're wanting to cook eggs for a crowd, then consider this "how to" post:
Baked eggs in a muffin tin.
(*Perfect round size to tuck between biscuits — just add bacon or ham with cheese to complete a meal.)
If you buy extra eggs on sale, consider freezing them! 
Read this post about FREEZING EGGS.
Ideas for boiled eggs:
– Eat plain with salt and pepper to taste – Toss sliced, boiled eggs onto Salads –
Make egg salad sandwiches
– Make pickled eggs – Make deviled eggs –
Hard boiled egg casserole
–
Faux potato salad recipe
–
Egg salad burritos
Ideas for scrambled eggs:
– Traditional egg burritos – Scramble eggs, tuck into flour tortilla shells, add cheese and picante sauce, or whatever else your heart desires. –
118 Scrambled Egg Recipes
(scroll down the page to find the complete collection of egg recipes.)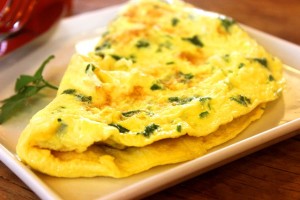 Here's a few more egg recipes to try…
Skillet Bacon-Feta Frittata
Ingredients:
6 slices Smoked Uncured Bacon, cut into 1/2-inch pieces 6 eggs 2 Tbsp. water 4 green onions, sliced 2 Tbsp. finely chopped fresh basil 4 cherry tomatoes, quartered 3 Tbsp. Traditional Crumbled Feta Cheese Freshly ground black pepper, to taste
Directions:
Cook bacon over medium heat until crisp. While bacon is cooking, in medium bowl, whisk eggs and water until well blended. Stir in onions and basil. Once bacon is cooked, remove all but 1 tsp. of the drippings and add the egg mixture. Cook about 3 min. or until almost done. You want the eggs cooked but the top still moist. Add the tomatoes, cheese and pepper. Cover and continue to cook on medium-low heat until eggs are set and cheese is slightly melted; approximately 5 minutes.
Egg & Turkey Quiche
Ingredients:
10 eggs, slightly beaten 2 green peppers, chopped 2 teaspoons of parsley flakes 1 teaspoon of oregano Salt and pepper to taste 2 cups of diced cooked turkey 2 tablespoons of onion flakes 2 teaspoons of dried chili pepper flakes 1/2 teaspoon of garlic powder
Directions:
Preheat oven to 350 degrees. In a medium bowl, slightly beat eggs and add green peppers, parsley, oregano, turkey, onion flakes, chili pepper flakes, garlic powder and salt and pepper. Spray an 8 inch cake pan with non stick cooking spray. Pour quiche mixture into pan and bake until set. (Approximately 30-35 minutes). Cut and serve immediately.
Mushroom Omelette
*Serves 4
Ingredients:
1 cup of trimmed and sliced mushrooms 8 large eggs 2 oz grated Gruyere cheese or Swiss cheese 2 tablespoons butter Fresh parsley to garnish Salt and pepper to taste
Directions:
Add one tablespoon butter to a non-stick frying pan and add the mushrooms. Sautee over low heat for approximately 5 minutes, remove mushrooms from pan and set aside. Add a little more butter to the pan and add one quarter of beaten egg mixture, lift the edges of the omelette so the egg can run under and set. Once the omelette is almost set add one quarter of the cooked mushrooms and sprinkle with a little bit of the cheese. Fold the omelette over and gently place on the serving plate. Repeat 3 more times with remaining ingredients.
Frittata With Summer Veggies
*Serves 4
Ingredients:
1 1/2 tablespoons extra virgin olive oil 1 6 inch diced zucchini 1/2 diced red bell pepper 1/2 diced red onion 1 tablespoon fresh thyme 1/2 teaspoon sea salt, divided 1/4 teaspoon black pepper, freshly ground, divided 2 minced garlic cloves 1 medium seeded and chopped tomato 9 large cage free, organic eggs
Directions:
In a 10 inch oven-proof frying pan or skillet, heat oil over medium heat. When oil is heated, add zucchini, pepper, onion, thyme, 1/4 teaspoon sea salt, 1/8 teaspoon pepper and garlic. Cook, covered, stirring occasionally, for about 5-7 minutes or until vegetables are tender. Add in tomato and stir. Cook, uncovered, until liquid evaporates, about 5 minutes. Whisk eggs, remaining salt and pepper until frothy. Pour frothy eggs over vegetable concoction, stirring gently. Reduce heat and cover, cooking for 15 minutes. Meanwhile, preheat broiler to low. Stick frittata under the broiler until fully set, about 3 minutes. Turn onto a platter or plate. Slice and serve either warm or cold.
Adapted from:
http://www.paleoplan.com/2011/02-07/summer-vegetable-frittata/
More Easy Egg Recipes:
Huevos Rancheros
http://www.realsimple.com/food-recipes/browse-all-recipes/huevos-rancheros
Egg in a Hole with Smoked Salmon
http://www.realsimple.com/food-recipes/browse-all-recipes/egg-hole-smoked-salmon
Related articles from the internet…
]]>

<![CDATA[