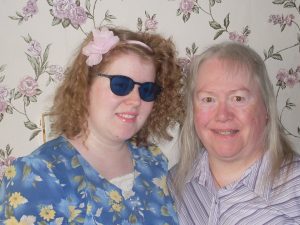 Trials and difficulties in life are something we all have to face and deal with. 1 Peter 4:12 says, "Beloved, think it not strange concerning the fiery trial which is to try you, as though some strange thing happened unto you."
One of the most difficult things for parents is to watch a child face such difficulties. Ashley didn't need a doctor to tell her she was going blind, she knew her sight was getting much worse. But why? What caused it? Can it be fixed? What about her career in music?
She has had piano lessons since she was five. Her life dreams seemed to be falling apart. I so wanted to help, to look for a fix of some kind. My verse I go to is Joshua 1:9," Have not I commanded thee? Be strong and of a good courage; be not afraid neither be thou dismayed: for the Lord thy God is with thee withersoever thou goest."
We went to the Lord in prayer and for strength. His wonderful peace came to us. "And the peace of God, which passeth all understanding, shall keep your hearts and minds through Christ Jesus." Philippians 4:7.
I was strong during the day in front of the family, but at night I would wake up with all the questions running through my head. How will she live with this? What will she do? Who will take care of her? ON and ON my mind would run through all the thoughts.
God spoke to me and reminded me that I didn't have to have all the answers. Once again I was reminded of God's love and care. I knew He had a perfect will for Ashley's life. God would use this for His glory. Isaiah 26:3 would come to my thoughts and soothe me back to sleep. "Thou wilt keep him in perfect peace whose mind is stayed on thee."
Ashley said to me, "Mom, God is good to me because He allows me to see light and not darkness." As long as we keep our eyes focused on the Lord and His will we have His peace, but when we look around at the difficulties and problems our peace isn't so strong.
Like Peter the apostle in Matthew 14:30 & 31, "But when he saw the wind boisterous," (trials, blindness) "he was afraid; and beginning to sink" (in despair or depression) "he cried, saying Lord save me." vs 31 "And immediately Jesus stretched forth his hand, and caught him".
When we take our eyes off the Lord we can sink down under our circumstances. We try to take one day at a time, keeping our thoughts on the Lord and believing Romans 8:28, "And we know that all things work together for good to them that love God, to them who are the called according to his purpose."
Ashley is the church pianist. She has most of the hymns memorized. She also plays and sings at two nursing homes, teaches at two music studios as well as teaching at the house. She is determined to live for the Lord.
_________________________
(*Note from Rhonda White, HCH editor: Please pray for Ashley and her family…  It's a blessing to see how God is using Ashley, and I know that she and her family could certainly use our prayers.)