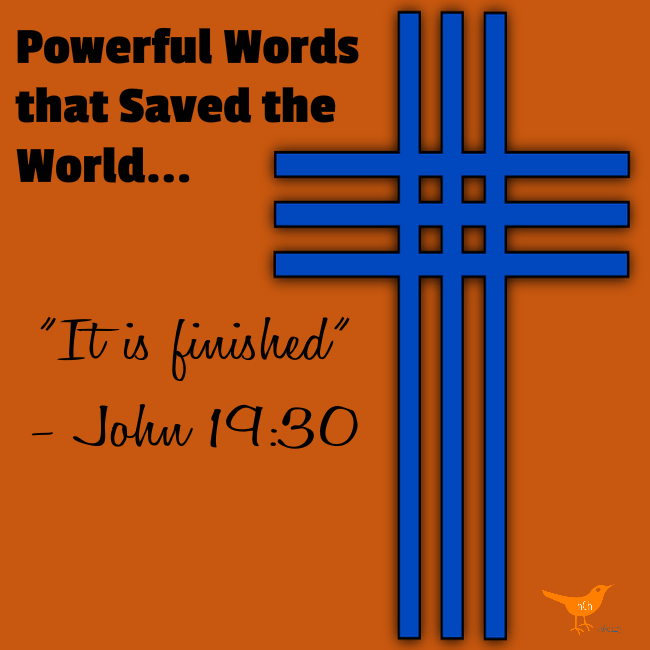 I had a big goal in 2014 that I didn't get finished.  The goal was to get my house organized from top to bottom. First, I didn't realize what a challenge that would be trying to get all of it done in a specific time frame since we had collected WAY too much stuff over our 21 years of marriage. Secondly, I got distracted… I got lazy.   But, thankfully, I've never quit.  I'm still pursuing that goal headstrong. I have quite a long way to go, but as the saying goes… you only fail if you quit. I want to encourage you… Do make goals (life doesn't change and improve without them.).  Break those goals down into easier, doable tasks.  Stay focused on your major goals and reevaluate them often to see how you're progressing on those goals. Don't quit until it's
FINISHED
.
Now, on to more spiritual thoughts here…
From Jesus example, we know He
ALWAYS
kept His goal in focus…
"And he said unto them, How is it that ye sought me? wist ye not that I must be about my Father's business?"

Luke 2:49
Everything Jesus did and said…
ALL
of His doings… was to complete the business His father had sent Him to do. Jesus didn't make himself a "king" on earth, but made himself a
SERVANT.
  It was no easy feat for Him…there were some big trials along the way.
Being forty days tempted of the devil. And in those days he did eat nothing: and when they were ended, he afterward hungered.

 

Luke 4:2
Jesus didn't quit. THANK GOD He didn't quit on us!!! Furthermore, He faced the biggest trial of all as He endured the torturous affliction of the crucifixion.  (Matthew 27:32-56) Then, the most powerful words were spoken… The words that saved the world
BECAUSE
Jesus shed His blood for us and gave His life for us… to pay the penalty of our sin.
When Jesus therefore had received the vinegar, he said, It is finished: and he bowed his head, and gave up the ghost. 

John 19:30
It is finished! Jesus did what He came to do. We can find
NO
another way to Heaven except through Jesus. If we could, would not His death and suffering be for no purpose? Jesus finished… because he
LOVES YOU
and His goal was to
SAVE YOU.
Jesus saith unto him, I am the way, the truth, and the life: no man cometh unto the Father, but by me.

 

John 14:6
If you haven't yet.. Call on Jesus today!  Accept His gift of eternal life and payment for your sin so that you are
READY
to enter Heaven one day!
For whosoever shall call upon the name of the Lord shall be saved. 

Romans 10:13
]]>

<![CDATA[