Create your Own Mini Breakfast Corner Nook
Busy moms need to think ahead.  Do what it takes to create some swift action during the drowsy morning hours. I decided to make one corner of my kitchen dedicated to quick breakfast gatherings.   Here's a picture of the cabinet I cleared out for breakfast supplies: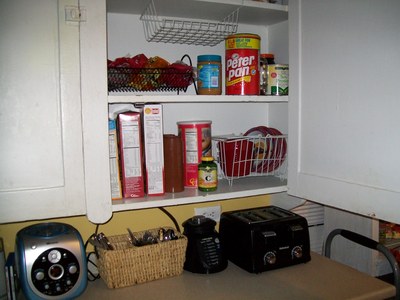 The little white bin inside is for stashing some paper plates.  (I've decided to forgo paperplates for awhile.)   There's bread (& toaster below),  little stackable brown cups, kids multivitamins, oatmeal, cereal, bowls for cereal,  bread, peanut butter to swipe on toast, breakfast drink mixes etc.
Organize spoons & forks:
I use a picnic caddy for storing knives, spoons and forks to grab a quick bite.  I also have purchased three bar stools – one for each son to sit down and eat.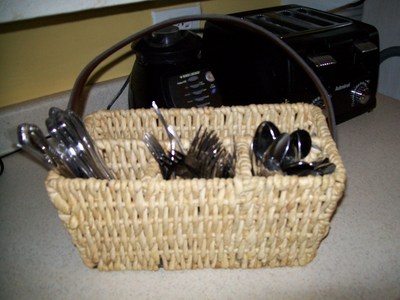 ===============================================================
Featured Product: for your wish list
Wall Mount Paper Towel Holder

– $ 5.99

Mount this paper towel holder vertically horizontally or under shelves to save counter space and keep paper towels easy to access. Great to use in a kitchen workshop or garage. Made of high strength ABS plastic in solid white All hardware included Easy installation Measures: 13-1/2″W X 2-1/4″D X 4-3/4″H

]]>

<![CDATA[