1) In those days was Hezekiah sick unto death. And Isaiah the prophet the son of Amoz came unto him, and said unto him, Thus saith the LORD, Set thine house in order: for thou shalt die, and not live.

2) Then Hezekiah turned his face toward the wall, and prayed unto the LORD,

3) And said, Remember now, O LORD, I beseech thee, how I have walked before thee in truth and with a perfect heart, and have done that which is good in thy sight. And Hezekiah wept sore.

4) Then came the word of the LORD to Isaiah, saying,

5) Go, and say to Hezekiah, Thus saith the LORD, the God of David thy father, I have heard thy prayer, I have seen thy tears: behold, I will add unto thy days fifteen years.

~ Isaiah 38:1-5 kjv
I find it a comfort to read Scripture on prayer where God's changes his mind.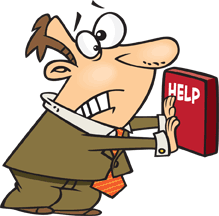 There's always
Hope
in prayer…combined with a little
Faith
you can move mountains! If you notice in the Scripture above, Hezekiah reminded the Lord how he had walked in truth and in the ways of the Lord. There are
blessings
that come with obeying the Lord and doing that which is right. Do we bless a child for all his wrong doings? "
Why, Johnny, you've been so bad today; you haven't done a thing that I've told you.  Let's go get some ice cream!
" Just as ridiculous as that sounds, some people actually expect the Lord to bless them despite the fact that they haven't been obedient.  They wonder why God doesn't ever answer their prayers. Sometimes the Lord says, "
No
." 
And sometimes trials may come as consequences of our sin
.  (
We're not to judge others when trials enter their lives, but we're often awakened to the reality of our own sin when trials face us.
) David prayed for his dying son in spite of his own sin of adultery and murder…
"And he said, While the child was yet alive, I fasted and wept: for I said, Who can tell whether GOD will be gracious to me, that the child may live?"  II Samuel 12:22
The best thing to do is to avoid sin.  Keep sin out of your life so that you can receive God's blessings.  If there's anything in your life that isn't pleasing to God, that's sin! Sin is not a popular subject to talk about, but know this… it can be a hindrance in getting our prayers answered!  There are consequences of sin.
Day 16

Pray anyway!

If you're facing a trial and you believe it might be because of sin in your life, pray anyway!  Cry out for help because God can change his mind. I LOVE David's courage.  He fasted, wept and prayed.  He repented of his sin.  God's a merciful God.  Repent and then pray anyway about the trial you're facing!  "

Who can tell whether God will be gracious

." (II Sam. 12:22) For day 16, the book I'm reading on prayer talked about asking God to surprise you.  The fact is, sometimes our finite minds can't comprehend all the mighty wonders that God can actually do in our lives.  Who doesn't like to surprise their children just to see the wonderful expression on their face…and their huge smile of joy.  Our Heavenly Father is the same!  Just let God do His work in your life and ask Him to surprise you! ]]>

<![CDATA[